Exclusive Ski Getaway at Silverton & Telluride for SOS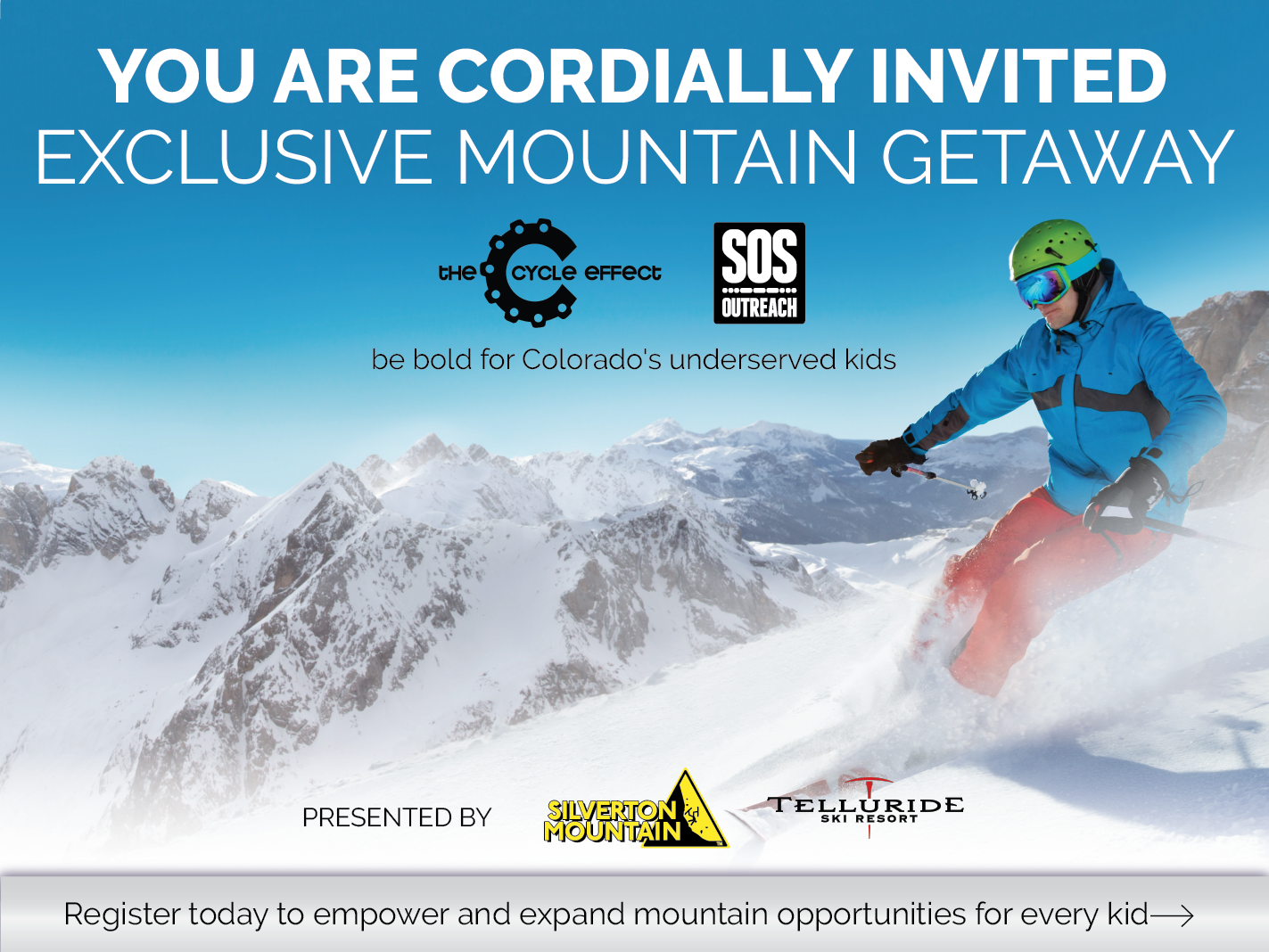 Silverton Mountain and Telluride Ski Resort are joining for a third year to create an unforgettable event to support Colorado based youth organizations SOS Outreach and The Cycle Effect.
Generously sponsored by Telluride Ski Resort and Silverton Mountain the three day Powder Challenge luxury adventure combines: (1) a problem solving think tank featuring prominent speakers addressing effective solutions for harnessing educational and vocational opportunity through hard work and perseverance; (2) fundraising to support kids in SOS and Cycle Effect; and, (3) an opportunity to meet and directly interact/hang out with inspiring kids and staff, with a magnificent ski adventure set in the magical San Juan Mountains. Telluride Resort and Silverton Mountain combine to make this a unique, unforgettable event.
WHEN: Sunday, January 20 - Wednesday, January 23, 2019
WHERE: Silverton Mountain (two-nights lodging at historic Grand Imperial Hotel) and Telluride Ski Resort (one night lodging at Peaks Resort & Spa a ski-in, ski-out property)
HOW MUCH: $2,750 per person or $5,000 per couple includes 3 nights of lodging, both with private guides and instructors, beverages compliments of Montanya Rum Distillery, private apres ski parties hosted by Silverton and Telluride, banquet dinners hosted at the exclusive Silverton Grand Imperial Hotel and Telluride's Allred Mountain Restaurant, and much more...

Space is limited, reserve your spot today!
Reservations are managed through our Eventbrite page. Please note, the registration is listed as FREE. Upon completion of online registration, you will receive an invoice outside of the web portal for payment. Payment can be made by check or online. A portion of your contribution is tax-deductible to the extent allowed under law. Please consult your tax advisor for details on deductibility.