SOS Says Thank You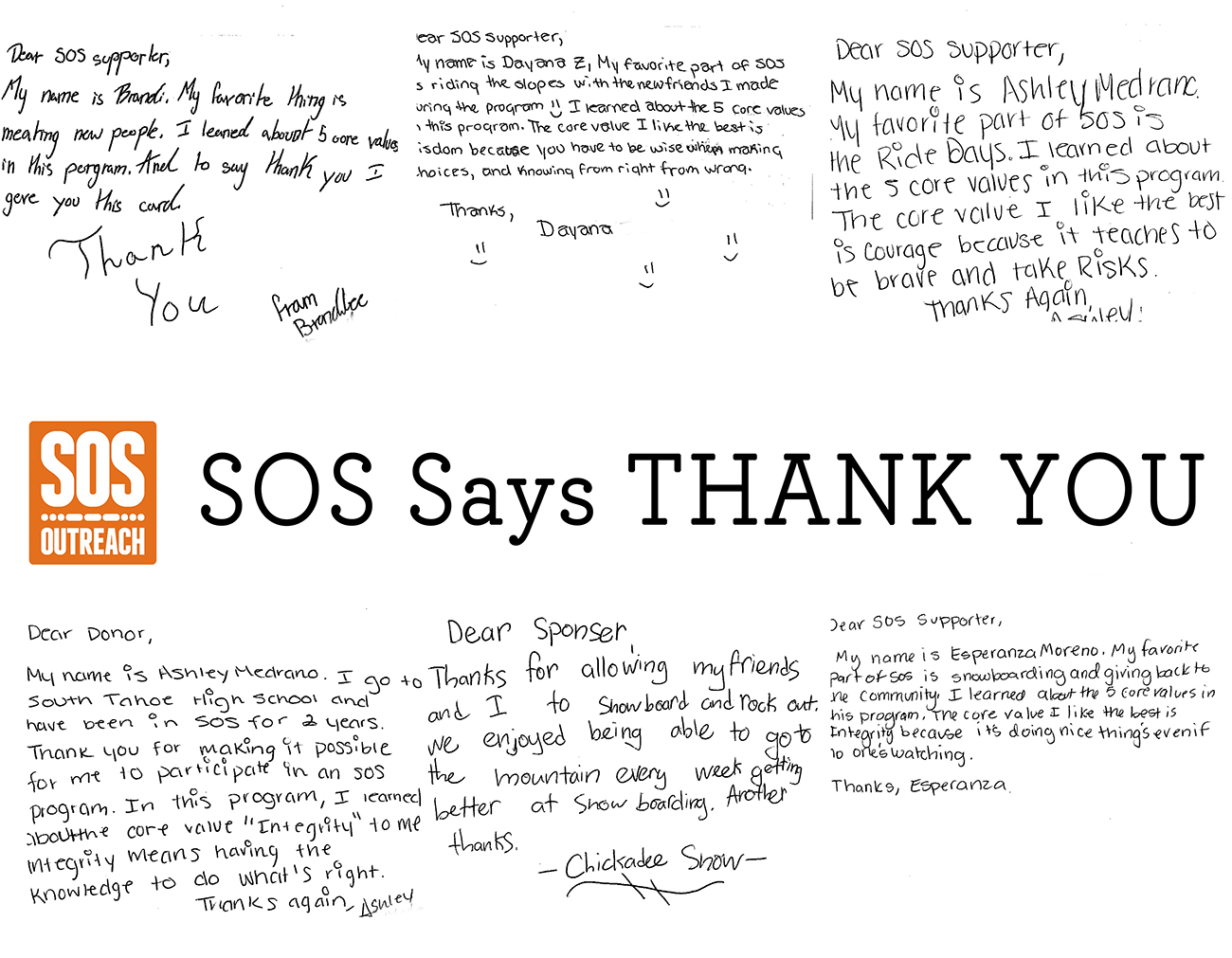 SOS would not be able to accomplish its goals without the help of its donors who give both in-kind and monetary support. We are able to keep our program expenses down due to the significant in-kind support that we receive. We want to say Thank You to everyone who contributes to SOS. Your compassion is a model for our students and is greatly appreciated by everyone involved. Thank you to all donors who supported SOS Outreach during the 2012 fiscal year (July 1, 2012 – June 30, 2013).
$50,000 +
Harold W. Shaw and Mary Louise Shaw Foundation
Sherman Poppen
$15,000 - $50,000
Corporation for National & Community Service
Gary Saltz Foundation Inc.
James Cargill
May & Stanley Smith Charitable Trust
Sidney E. Frank Foundation - Colorado Fund
Take The Magic Step Foundation, Inc.
$10,000 - $14,999
Anonymous Foundation
$5,000 - $9,999
Axel Geittmann
Collective Licensing International
Dusty Boot Steakhouse and Saloon
Vail Summit Orthopaedics Sports Medicine
$1,000 - $4,999
686 Enterprises, Alli | Alliance of Action Sports, Arctix, Ballantine Family Fund, Beaver Creek Resort Company, Bill's Sports Shop, Blue Moose, Board Rescue, BP America, Inc., Chris Ryman, Christy Sports - Dillon, Costco 637, Dakine, David Portman, Durango Mountain Resort, El Pomar Foundation, Erin Yeager, Frey Foundation, Geoff Anders, George Gastis, GU Energy Labs, Hilary Sims, Howard Head Physcial Therapy, Jack Forte Foundation, Inc., Jamil Dillon, Jevin Croteau, John Gardner, Justo E Navarro and Salome A Navarro Charitable Trust, Ken Jones Ski Mart, La Plata Electric Round Up Foundation, Mallory Mahoney, Mark Thompson, Maximum Comfort Pool & Spa, Inc., Mercury Payment Systems, Michael Kirn, Microsoft Matching Gifts Program, Mount LaCrosse, Mountain Town Magazine, Mt. Bachelor, Mt. Hood Skibowl, Nancy Wilke, Nate Fristoe, Nikwax North America, Odell Brewing Co, Osprey Packs, Outdoor Research, Outdoor Retailer, Nielsen Business Media, Parasol Tahoe Community Foundation, Patagonia Denver, Richard Rogel, Ride Snowboards, Rock Bottom Brewery, Ronnie Gagnet, Sharon Popinski, Sitzmark at Vail, Slifer, Smith & Frampton Real Estate, SmartWool, Sole - Edge Marketing, Stephen Jones, Steven Coyer, Sweat Equity, Taco Bell Colorado (Locations in Eagle, Frisco, Glenwood Springs and Rifle), The Seattle Foundation, The Zinsmeyer Company LLC, Trans Rockies LP, United Way of Eagle River Valley, United Way of Southwest Colorado, Vail Valley Surgery Center, LLC, Vans, Inc., White Sierra, Wiegers Family Foundation, Yampa Valley Community Foundation, Zumiez
Up to $999
Aaron Tersteeg, Adam Esses, Adam Palmer, Adam Price, Adolfo Lagos, Adrienne Wills, Alan Danson, Alan Lewis, Alex Gillett, Alex Iskenderian, Alex Swithers, Alexa Bennett, Alexander Kruse, Alina Sayre, Alison Casias, Alissa Frohreich, Alissa Shulkin, Allen Blake, Alyssa Buck, Alyssa Moore, Amanda Harris, Amicas, Amy Allured, Amy Barrali, Amy Weiss, Andrea Ashwood, Andrew Newman, Andy McCombie, Angela Murray, Angie Meyer, Ann Wong, Anne Kincaid, Annette Andretich Gross, Annette Isom, Anthony De Rocco, Anthony Huegel, Arn Menconi, Arnold Pizer, Art Burger, Ashley Henshaw, August Tarantino, Ball Corporation Matching Gifts Program, Barbara Payne, Barry Danielsen, Becky Wallace, Ben Miller, Benjamin Lobaugh, Betty Smith, Bev Schneiter, Bilge Bayar, Bill Cofer, Bill Cotton, Bill Jensen, Bill Zafian, Blake Hensley, Bob Kippola, Bob Matarese, Bonnie Bankler, Bree McQuillen, Brett Glasgow, Brian Hulick, Brian Cusick, Brian Phipps, Brian Vandenbroek, Brittney Rider, Brock Sprowl, Bruce Derrick, Bryce Wenker, Buck Keith, Burney Gibson, Burton Glazov, C4 Belts, CA Lane, Cait Randerson, Caitlin Kincaid, Carol Ferris, Carol Lantz, Carol Lottice, Carrie Gonzalez, Carrie Grant, Carrie Seymour, Casey D'Angelo, Cecilia Olson, Chad Lesczynski, Charles Borberg, Charles Tyson, Charlie O'Reilly, Chelsea Gifford, Cheri Curtis, Cheryl Bottomley, Cheryl Schedin, Chris Wurster, Christine Bisio, Christine Johnson, Christine McMann, Christine Rasmussen, Cindy Bargell, Cindy Dickey, Cissy Olson, Claire Henderson, Claire Hummel, Claire Rogers, Clif Bar, Clifford Rowe, Colin Foran, Colleen Piefer, Connor Folley, Courtney Drvaric, Courtney Wilson, Craig Bruntz, Cynthia Gray, Dan Gallagher, Dan Gibbs, Dan Hansen, Dana Buck, Dana Paugh, Daniel Lattanzi, Daniel Lepow, Daniel Petree, Daniel Ripes, Daniella Borjas, Dave Hammel, Dave Munns, David Blank, David Byrd, David Floyd, David Johnson, Dawnie Guillory, Dean Gentile, Dean Macfarlan, Deana Crawford, Deanna Luna, Deborah McCarthy, Debra Major, Denali Johnson, Denise Schulman, Denver Pirate Leagues, Diane Cleaver, Diane Kulbacki, Dick Schulze, Dijana Kozar, Dimitri Koutsos, Donald McMullin, Donald Amundson, Donald Belgrad, Dorene and Lee Butler Family Foundation, Doris Clinton-Gobec, Doris Dewton, Doug Jacobs, Douglas Haitch, Douglas Jacobs, Dr. Ed and Denise Labissoniere, Eagle County Government, Eagle Valley Community Fund, Edward Olds, Elena Tafoya, Elite Sport & Spine, Elizabeth Encarnacao, Elsa D'Angelo, Embry Gillet, Emma Espel, Emory Capps, Erin Perlman, Ernesto Cantu, EVault, Faith Johnston, FirstBank, Francesca London, Frank Choltco-Devlin, Frank Navarro, Frank Papandrea, Fred and Wanda Plagens, Frederick P. Sackbauer III, Gabe Cohen, Gail Thompson, Gale Delphia, Gary Ecoff, Gary Hart, Gary Salomon, George & Ruthie Simmons, George Wiegers, Gergana Vlasseva, Gina Hall, Google Matching Gifts Program, GoPro, Grace Buck, Greg Lange, Greg Rosin, GSI Outdoors, Inc., Hal Von Hedemann, Hallidie Haid, Hamish Morrin, Hannah Ehrlich Hardy, Harriett Steinhaus-Dick, Harry and Laurel Sandell, Hayden Behnke, Heather Anderson, Heather Zaimes, Hennessy Hammock, Henry & Jeanne McQueeney, Herchel Portman, Hilary Boyce, Ingrid Seade, Irene McMurray, Ivan Loughlen, Jaclyn Phipps, James Alexander, James Blackwell, James Carr, James Donohue, James Dulin, James Klein, James Lindsay, James Tape, James Williamson, Jamie Rogers, Jamie Starr, Jared Buck, Jasmine Gomez, Jason Benderly, Jason Buursma, Jason Griffith, Jason Rodriguez, Jason Schroeder, Jeanne Crisafi, Jeanne Mcqueeney, Jeff Johnson, Jeff Prouty, Jeffrey Kaplan, Jenee Rick, Jennifer Armstrong, Jennifer Repp, Jennifer Rosenberg, Jeremy Katz, Jeremy Neubauer, Jerome Philpott, Jessica Full, Jessica Knowles, Jessica Meiris, Jim and Elizabeth Himmes, Joanna Heitz, Joaquin Nopens, Joe Bishop, Joe Bishop, Joel Cohen, Joel High, Joel Smith, John Benton, John Cogswell, John Dowling, John Evans, John Hickenlooper, John Jordan, John Ourisman, John Reynolds, John Rouches, John Taylor, Jon Chase, Jon Garrou, Jon Glass, Jon Westerlund, Jorge Posada, Joseph Kennedy, Joy Jinkerson, Juan Ignacio Guerrero, Julia Sweet, Julie Kurtz, Julie Noolan, Julie Townsend, K2 Ski, K2 Snowboarding, Karen Cobb, Karen Eyrich, Karen Sawyer, Karen Sweeney, Karin Chase, Kasey Pearce, Kate Blank, Katherine (Caitlin) Barrett, Katherine Eilliott, Katherine Gibbon, Katherine Symmank , Kathleen Adams, Kathleen Brakke, Kathleen Burdette, Kathleen Cole, Katie Boone, Katie Copeland, Katie Elliot, Katie Hinrichs, Katie Trolinger, Katrina Ammer, Kavu, Kay Tuber, Keely Bostock, Keith Ambuhl, Keith Zittle, Kelly Bergman, Kelly Billingsley, Kelly Rude, Ken Kanners, Kennet Barnes-Krueger, Kent Erickson, Ketan Jobanputra, Kevin Fortson, Kimberly Quesnel, Klein James, Krista Chism, Krista Wolfe, Kristin Kenney-Williams, Kristina Burri, Kroger, Kurt Johnson, Kyle Hamley, Kyle Nielsen, Larry Dale, Larry Lantz, Laura Addington, Laura Herlands, Laura Martel, Laura Marx, Laura Monroe, Laura Turner, Laura Webb, Lauren Burnett, Lauren Owens, Laurie Phipps, Leonard Randolph Jr, Leslie Myers, Leslie Walker, Linda Denmark Strachan, Linda Ehrlich, Linda Nugent, Lindsay Whitehurst, Lino Guidero, Lisa Berman, Lisa Craig, Lisa Doughty, Lisa Efraimson, Lisa Freeman, Lisa Palanca, Location3 Media, Inc., Lori Myers, Louis Scott de Martinville, Lourdes Cruz, Lydia Ross, Lyla Warren, Malee Lucas, Mallory Sullivan, Malvin Keller, Marc Vitelli, Margaret and Peter Zack, Margaret Au, Margaret Garbe, Margaret Ginty, Marge Maddex, Marie Booren, Mark Grimaldi, Mark Lucas, Mark Satkiewicz, Mark Sloane, Marka Moser, Martin Halzel, Marvin Goldberg, Mary Buchheister, Mary Dakan, Mary Lamb Lucas, Mary Rose, Mary Ross, Mary Vegas, Maryalice Cheney, Maryjane Johnson, Maureen Quinn, Maxine Jaramillo, Megan Weed, Meghan Card, Meghan McLean, Melanie Michaels, Melanie Passons, Melissa McClendon, Mellanie Hinrichs, Meredith Zafian, Michael Beltracchi, Michael Gilbert, Michael Houck, Michael Reger, Michael Schwartz, Michael Scullin, Michael Vila, Michele Childs, Mick Donoff, Mikayla Curtis, Mike Asher, Mike Carey, Mike Gehard, Mike OReilly, Mike Rushmore, Minnie Lindsey, Missionfish, Morris Futernick, Morris Price, Mountainsmith, Nana Ruth, Nancy Heinen, Nancy Major, Nathan Handberry, Never Summer, New Belgium, Nic Sakuma, Nicole Fava, Nicole Gilbertson, Nicole Pond, Nicole Smith, Norman Patton, Norman Smith, OtterBox, Pamela Ross, Pat Gilbert, Patricia Rogers, Patrick McWhinnie, Patrick O'Neill, Paul Barben, Paul Cornell, Paul Hubbard, Paul Jardis, Paul Lucas, Paul McLean, Payne Barbara, Peggy Fossett, Peter Abuisi, Peter Visnich, POW Gloves, Randon Kruse, Randy Pellegrini, Randy Pharo, Rebecca Peterson, Regina Armas, Richard Dirkes, Richard Reedy, Rick Getz, Rick Smith, Rob Gray, Rob Venus, Robert Claeys, Robert Frietsch, Robert Russo, Robert Schilling, Robert Stolper, Robert Veitch, Robert Warner Jr., Robertson & Marchetti, Ronald Berquist, Ronald Bindle, Rotary Club of Summit County, Rotary Club of Summit County, Russell Scarborough, Ryan Hawkes, Ryan Hyde, Samantha Ray, Samantha Santor, Sandra Indermuhle, Santiago Sepulveda, Sara Leporati, Sarah Heschl, Sarah Jardis, Scott Davis, Scott Frazier, Sean Groda, Sefton Theobald, Seth Ehrlich, Sharon Masuda, Shawn McAtamney, Sheila Griffith, Sheralind & Ronald Haas, Sheri Vernier, Silver Mtn., Ski Shack (Silver Mtn.), Sports Specialists Ltd., Stacey Allen, Stacie Jacobsen, Stan Schlesser, Stan Schlosser, Stanley Cope, Stephen Mase, Steve Booren, Steve Rockwell, Steve Sanders, Steve Swenson, Steven King, Steven Perkins, Stu and Shelly Scales, Stu Barnes-Israel, Sue Throckmorton, Sunshine Knapp, Susan Breeden, Susan LaRose, Susan Swaringen, Susana De Abiega, Teresa Gergen, Teri Tucker, The Cleveland Foundation, The Ritz-Carlton Bachelor Gulch, The Ritz-Carlton Vail, Theresa Papandrea, Thomas Carey, Thomas Theis, Tim Beck, Tim Turner, TJ Gerber, Todd Oehlert, Tom Moorhead, Tony Pisacano, Tor Ulstein, Town of Dillon, Town of Silverthorne, Town of Vail, Trade Shows West, Truist, Tyrone Lettelleir, Vail Mountain School, Van Campbell, Vicki Newberry, Victor Frandsen, Victoria Czarniecki, VMware Foundation Matching Gift, Wayne Bizer, Wayne Smith, Weatherl & Associates, Wesley Shuler, William Edwards, William Elliott, Willie Johnson, Zach Brooks, Zach Tinker