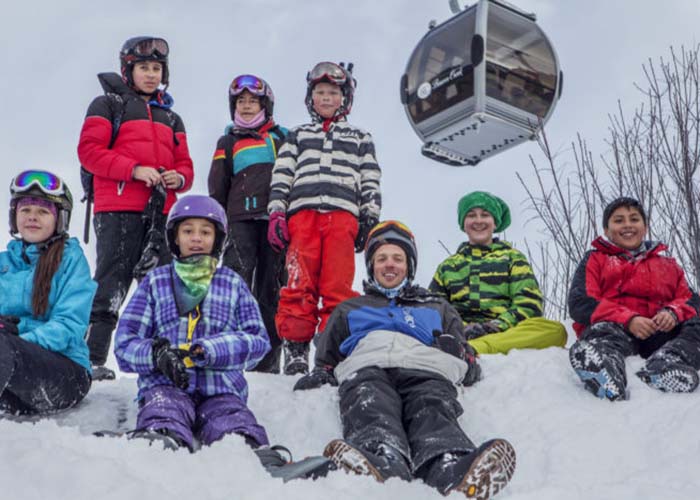 1200+ skiers and riders compete to raise support for SOS
BEAVER CREEK, CO – This past Saturday, over 1,200 skiers and snowboarders descended upon Beaver Creek for the 13th annual Talons Challenge in attempt to conquer the steepest terrain Beaver Creek has to offer. Little did the competitors know that their challenge would also create unexpected opportunities for youth in the outdoors. Through the generous partnership of the Beaver Creek Resort Company, proceeds from Talons Challenge will benefit SOS Outreach and their transformational youth programs for Eagle County youth.
SOS Outreach offers a progressive curriculum tailored to provide local youth ages 8 – 18 that center on 6 core values of courage, discipline, integrity, wisdom, compassion and humility to foster and promote character and leadership development. SOS programs are unique in their use of adventure sports, adult mentors, service learning and leadership development to engage participants for future success. Across all program locations this winter, SOS Outreach will introduce over 4,200 to the slopes at 31 mountain resorts in 6 states.
The festivities did not end with the on-snow Challenge. The Peter Grant Johnson Foundation (www.whatwouldpeterdo.org) hosted the inaugural winter après ski celebration at the Osprey at Beaver Creek to raise additional support for SOS Outreach. Embracing the Challenge wholeheartedly, Team PJ had 36 registered skiers competing in the challenge and raised over $30,000 to directly benefit SOS Outreach programs. A highlight for all in attendance at this exclusive après event was the heartwarming story shared by of one of SOS Outreach model participants, Zeiri. Zeiri, a graduating senior, shared, "Humility, my favorite core value out of the six, has taught me that being humble and courteous is the best way to earn the trust of others, and that sometimes we must put our pride aside to help. It has also taught me that we are all equal. Everything that SOS Outreach has taught me and the experiences I've had with SOS have shaped me to be the person that I am today. I am proud to say that I am an individual who spreads the love." Additionally, Zeiri was recognized for her dedication to the community through the presentation of the 2016 Peter Johnson Legacy Community Leadership Award.
For students like Zeiri, opportunities through SOS create an amazing space for personal growth. In the midst of the expansion that SOS has embarked upon the past 22 years since their founding, Executive Director Seth Ehrlich says "It is inspiring to see the impact of SOS programs from students. Whether they just completed their very first ride day, or like Zeiri, have been a part of the SOS family for 9 years and are leaders in their communities – it is truly an honor to work with such incredible young people that will undoubtedly grow up and change the world."