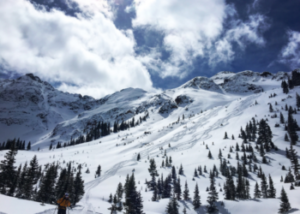 Powder Challenge, Accepted
Despite the high winds that sent us over to Telluride a day early, the MLK Powder Challenge was a huge success! Gathering some of SOS' amazing supporters in Telluride & Silverton for unbelievable skiing, great food, and inspiring speakers, we couldn't have asked for more!
SOS was honored to have featured speaker and dedicated supporter, Jen McLaren, President of Smartwool join us for this event. She shared the importance of outdoor experiences for people of all ages, genders, and races, and provided a staggering statistic — 70 million people report wanting to spend more time in the great outdoors, yet do not know where to go or how to begin their journey. She touched on the importance of giving back to organizations like SOS and how providing that support has become extremely important to her as Smartwool's President.
Special thanks to Bill Jensen, CEO of Telluride Ski & Golf and former SOS board member, his event team, and staff of The Peaks Resort & Spa for being such gracious and accommodating hosts. Also, many thanks to current board member, Andy Littman, for his vision and leadership around this event. We are so grateful to have this one-of-a-kind experience to share our impact and celebrate the youth that makes SOS so special!
If you missed out on the challenge this year, there's always next year! Contact us so that you, too, can be a part of the best ski weekend of the year, all in support of SOS!