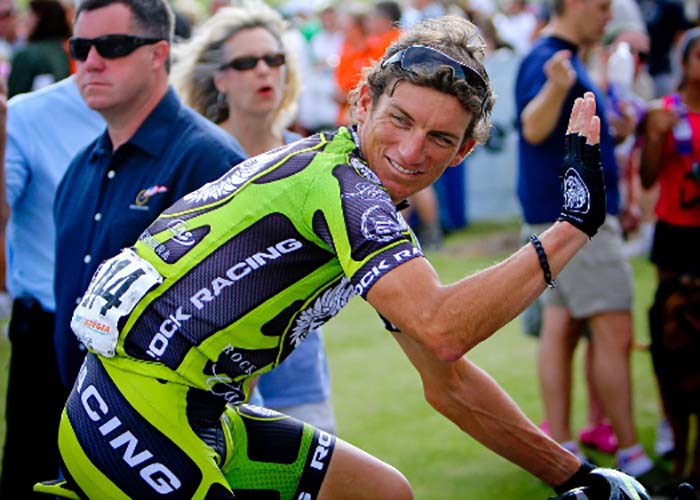 16th ANNUAL COLORADO-EAGLE RIVER RIDE AND ROADHOUSE MOUNTAIN BIKE RIDE FEATURING TYLER HAMILTON
EDWARDS, CO – Back for the 16th year, the Colorado-Eagle River Ride and Roadhouse Mountain Bike Ride presented by Roadhouse Hospitality Group is bigger than ever! No matter your skill level, there is an option for you. Plus, you won't want to miss an opportunity to ride with Olympic gold medalist cyclist Tyler Hamilton as we Cycle for Kids!
Secure your VIP package to kick off the weekend right on Friday night, July 21st at the Dusty Boot in the heart of Beaver Creek Village from 6-8 PM for the second annual pre-ride River Ride Rendezvous VIP event. In addition to the meet and greet opportunity with professional athlete Tyler Hamilton, attendees will discover the Faces of SOS project, a gallery style exhibition of high quality images coupled with personal accounts of SOS participants. To round out the celebration, delectable appetizers and drinks will be provided at the Dusty Boot alongside a silent auction. This event is ticketed – select the ultimate VIP package (including access to the River Ride Rendezvous, this year's jersey and registration in the ride of your choice) during checkout to join us!
On Saturday, July 22nd, grab your bikes and hit the mountain or the road for a journey through some of Colorado's most scenic landscapes in these supported rides! The traditional River Ride component will continue to offer 100-mile, 68-mile, and 42-mile routes to suit every rider's ability. Whatever option you choose, you will be rewarded with beautiful, scenic views of the Colorado and Eagle rivers. 100-milers and 68-milers will ride the famous River Road, a dirt-packed route following the banks of the Colorado River from Route 131 down to Dotsero. Aid stations fully stocked with food, beverages, repair kits and mechanics to keep every rider going. Not to mention, SAG (support and gear) drivers will offer vehicle support along the entire course.
Prefer mountain biking? Get ready to crank it for the kids on either the short or long course. Both routes start from the heart of Beaver Creek Village, with the short course completing a loop on Beaver Creek and traveling down, and long course traversing trails across Beaver Creek, Bachelor Gulch, and Arrowhead before making final descent down to Beaver Creek Landing. Ride solo, or put together your team for a memorable day of riding to provide opportunities for local youth! As an inclusive community event designed for all levels and abilities, there are designated aid stations, SAG, and mechanics on site to provide support throughout.
Tickets are now live at www.sosoutreach.org. Whether you choose to participate in the Roadhouse Mountain Bike Ride or the classic River Ride, all registered riders will be greeted at the Beaver Creek Landing for the festival finish after-party including food and drinks compliments of Dusty Boot and Odell Brewing and live music! Don't forget – this event is open to the public, and all riders are encouraged to bring their friends and family to join in the celebration. So grab your friends, register today and join SOS Outreach to "Crank it for a Cause!"
ABOUT TYLER HAMILTON: Former Professional Cyclist,  New York Times Best Selling Author
Tyler Hamilton was once one of the world's top-ranked cyclists—a fierce competitor renowned among his peers for his uncanny endurance and epic tolerance for pain. He started his career with the U.S. Postal Service team in the 1990s and quickly rose to become Lance Armstrong's most trusted lieutenant, and a member of his inner circle. For the first three of Armstrong's record seven Tour de France victories, Hamilton was by Armstrong's side, clearing his way. But just weeks after Hamilton reached his own personal pinnacle—winning the gold medal at the 2004 Olympics—his career came to a sudden end: he was found guilty of doping and exiled from the sport.
Denying the use of performance enhancing drugs in the years that followed Hamilton was forced to come to terms with his past in 2010 when the Federal Government launched an investigation into systematic doping on the U.S. Postal Service team. Hamilton was subpoenaed to testify before a grand jury and for the first time, broke the code of silence that had protected the sport's hard truth for so long.  His testimony chronicled a shocking culture of performance enhancing drug use encouraged and aided by team doctors, managers and coaches, and a dark world in which the sport's top performers lived.
In 2012, Hamilton released his memoir, The Secret Race: Inside the Hidden World of the Tour de France: Doping, Cover-ups, and Winning at All Costs, a riveting journey into the heart of a never before seen world, the stark choices that went along with his decision to compete at a world class level and his complicated relationship with Lance Armstrong. The book became an instant New York Times bestseller and was the recipient of the prestigious William Hill Sports Book of the Year Award.
Freed from the burden of hiding the truth and being able to tell a story that only a few short years ago would have seemed unimaginable, his story is the example of how culture can drive behavior – not just in sports, but in business and in life – and how values can be easily compromised as a consequence. He is also a testament to the transformational power of the truth.
Hamilton raced professionally from 1995 to 2008 and now runs his own training business for cyclists of all levels, Tyler Hamilton Training LLC. He currently lives in Missoula, Montana.