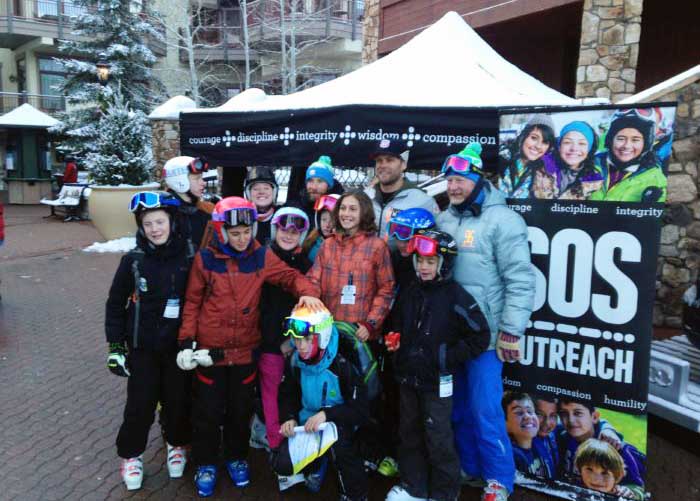 Inspiring the next generation
Vail Daily – December 3, 2015
VAIL – U.S. Ski Team downhiller Steven Nyman is No. 1 in your national rankings, and now is No. 1 in your heart, or the hearts of SOS Outreach.
Nyman is the first SOS Outreach athlete ambassador, helping SOS Outreach celebrate 22 years of sliding on snow.
Nyman is in town for this week's Birds of Prey races, the World Cup stop in Beaver Creek. He'll race downhill and Super G.
"SOS has a great mission and excellent track record of serving at-risk youth," Nyman said. "I am proud to be their first-ever athlete ambassador fostering inspiration for these kids."
SOS Outreach CEO Seth Ehrlich knows Johnny Alamo, Nyman's agent. They found common ground by starting the Peter Johnson Legacy Fund, partnering with SOS Outreach to serve underprivileged youth with mentorship and leadership in the outdoors.
"I've always had an idea of getting companies to rally around kids," Nyman said. "Every ski town is supported by a smaller town, and a lot of people don't have the opportunity to ski and enjoy what they're supporting," Nyman said.
Nyman has a house in Heber, Utah, near Park City, and is thrilled SOS Outreach recently expanded to Park City. He said he can't wait to help kids the way other people helped him.
"Why can't we get a trailer and haul gear? At the nationals why can't we get the athletes to teach people how to ski? I think the athletes would enjoy it. I also think it would be great for the kids and give them an experience," Nyman said.
Someone should do that, Nyman said.
Someone is.
"He's sharing what we do as an organization across his platforms," Ehrlich said. "We're a leader nationally in what we do, and it's exciting to have recognition from someone like Mr. Nyman."
SOS Outreach has moved well beyond snowboarding into skiing, rock climbing and backpacking.
"Part of our transition is moving beyond just snowboarding and recognizing how diverse SOS is," Ehrlich said.
MOUNTAIN MOVER
Nyman is the top-ranked U.S. Ski Team downhiller, and No. 6 in the world.
He's a three-time Olympian — Torino, Italy, in 2006; Vancouver, British Columbia, in 2010; and Sochi, Russia, in 2014 — and is focused on his fourth Olympics in Pyeongchang, South Korea, in 2018.
Born in Utah, Nyman was skiing at 2 years old. His mom taught him how to ski while his dad ran the Sundance Mountain Resort ski school. Steven and his three brothers chased each other all over the mountains.
His goal these days is to be the first American man to win the World Cup downhill globe.
Nyman is also a tech-savvy entrepreneur who built an international digital platform, Fantasy Ski Racer. The aim is to grow skiing's fan base and participation.
 SOS OUTREACH REACHING OUT
SOS Outreach introduces more than 5,000 youth each year to skiing and snowboarding. Since it was founded in 1993, it has introduced more than 45,000 youth to the mountains. SOS Outreach offers programs at 31 mountain resorts in six states. New this year, SOS is expanding programs to Nyman's hometown, Park City.
"Without the support we receive from the community, as well as all of our mountain partners nationally, this level of impact wouldn't happen," said Ehrlich.
That will enable SOS Outreach to connect with at-risk youth in Salt Lake City, Ehrlich said. Participants face a variety of challenges, including failing grades, low-income households and single-parent families. Along with the opportunity to experience mountain adventure sports, SOS programs puts kids together with positive adult mentors that offer encouragement and act as positive role models for youth.
Staff Writer Randy Wyrick can be reached at 970-748-2935 and rwyrick@vaildaily.com.