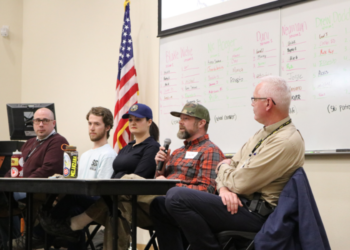 Leaders Inspiring Youth
This winter, over 150 SOS participants across locations invited a broad spectrum of community leaders to participate in Leadership Panels and share their insights on the importance of skill development for success and fostering the courage to pursue your passions. 
Many thanks to all of our fantastic panelists for making this experience possible for our youth! To highlight just a few of the incredible speakers, our kids invited: Claudia Anderson, CEO of Parasol Tahoe Community Foundation, Paul Bancroft, Executive Director of Tahoe Safe Alliance, Dani Neumann, Parks and Wildlife Officer, Sheriff Van Beek, Eagle County Sheriff's Department, Drew Dodd, Beaver Creek Ski Patrol, Dana Polley, School Therapist at KidSuccess, and Stephen Martinez, Lead Multi-Media Designer at Colorado Department of Transportation, among many others.