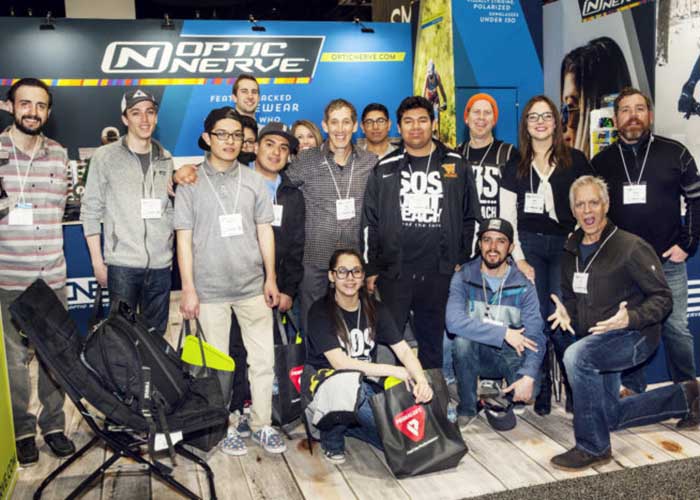 SOS Outreach + #TeamNerve Creating Brighter Futures For Youth Through Snowsports
For 20 years, Optic Nerve has been a core partner of SOS Outreach and its transformational outdoor programs benefiting underserved youth. Through this partnership, Optic Nerve has proven their dedication to positive youth development through outdoor adventure and leadership training. To top it off, Optic Nerve CEO, Bill Cotton, has served on the SOS Board of Directors since 1996, and has been instrumental in the evolution and growth of the organization.
As a corporation rooted in corporate responsibility, community cohesion and equality, it comes as no surprise that these two entities have paired up to create brighter futures for the underserved sections of our community who lack the resources necessary to participate in the outdoor adventure sports that dominate the culture of our mountain communities.  Regarding this relationship between SOS and Optic Nerve, SOS Executive Director Seth Ehrlich comments "There are a handful of organizations that have stood by SOS since the beginning, and Optic Nerve is one of them. The unwavering support of Optic Nerve and vision provided by Bill and the rest of the Board of Directors has been instrumental in enabling our organization to surpass the monumental milestone of 50,000 youth in our programs since 1993. Our victory is their victory." Optic Nerve President and Owner, Bill Cotton, mirrors this sentiment, reporting "SOS remains one of our [Optic Nerve's] most impactful partnerships. Sharing in their success reinvigorates the Nerve team, and reminds us why we do what we do. We are proud to contribute."
Synergistic partnerships like Optic Nerve are paramount to SOS Outreach's ongoing success. Without the gear that keeps SOS youth warm and dry on the slopes, the organization's programs would not be possible. Even more valuable, though, is the willingness of the Optic Nerve team to remain accessible and engaged in the day-to-day operations of the SOS family, warmly welcoming any opportunity to support the organization. All of us at SOS Outreach extend our sincerest gratitude to Optic Nerve for their shared belief and dedication to youth. Together, we provide underserved youth with the knowledge and confidence necessary to take the world by storm.