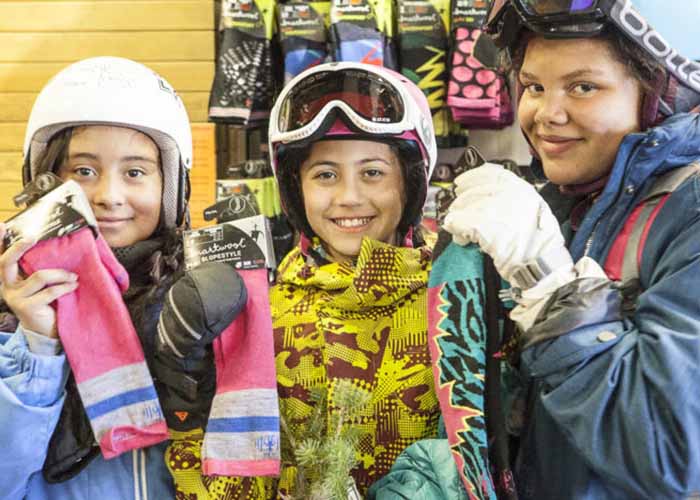 SmartWool Advocacy Team Spends Weekend with SOS Outreach
BEAVER CREEK, CO – This past weekend, six members of the SmartWool Advocacy Team joined SOS Outreach youth on the slopes of Colorado's Beaver Creek Mountain to get a hands-on look at the lives changed through SOS Outreach programming.
Since 2008, SmartWool has supported SOS through both monetary and in-kind donations that have been vital to ensuring the consistent opportunity for underserved youth in the outdoors. However, the support that SmartWool has provided does not end there. SmartWool CEO Mark Satkiewicz serves on the SOS Board of Directors, and has been instrumental in developing the organization's strategic direction. In this multifaceted capacity, SmartWool Inc. has proven their dedication to positive youth development through outdoor adventure and leadership training and this past weekend, the SmartWool team took it to the next level.
As a corporation equally rooted in corporate responsibility, ethical business and equality, it comes as no surprise that these two entities came together seamlessly to provide a weekend full of discovery and enlightenment for youth and adults alike. The weekend's activities kicked off with a group dinner on Saturday night hosted at The Osprey in Beaver Creek Village, where SmartWool staff and SOS youth had the opportunity to discuss advanced topics like corporate giving and understand why the SmartWool team donates their time – as well as their gear and money – to the organizations that they serve. SOS Outreach Program Director Rob Crawford commented "It's amazing to see a company put so much effort into their giving practices. To see their team interacting with our students with such care was eye-opening. SmartWool whole-heartedly cares!" On Sunday, the SmartWool team hit the slopes with SOS participants and embraced the opportunity to listen, learn and understand the individual realities that have been changed as a result of their partnership with SOS. The day ended with a surprise visit to the SmartWool Beaver Creek store, where all 60 SOS participants were invited to select a pair of Slopestyle Socks from the wall in commemoration of the day.
Corporate sponsors like SmartWool make SOS Outreach programs possible. Without the gear that keeps SOS youth warm and dry on the slopes, the organization's programs would not be possible. Even more valuable, though, is the willingness of the SmartWool Advocacy Team to act as positive role models and ethical industry representatives for SOS youth. All at SOS Outreach extend our sincerest gratitude to SmartWool for their dedication to youth and for taking the time to get to know and learn from SOS participants. It is through opportunities like these that underserved youth gain the knowledge and confidence to take the world by storm.