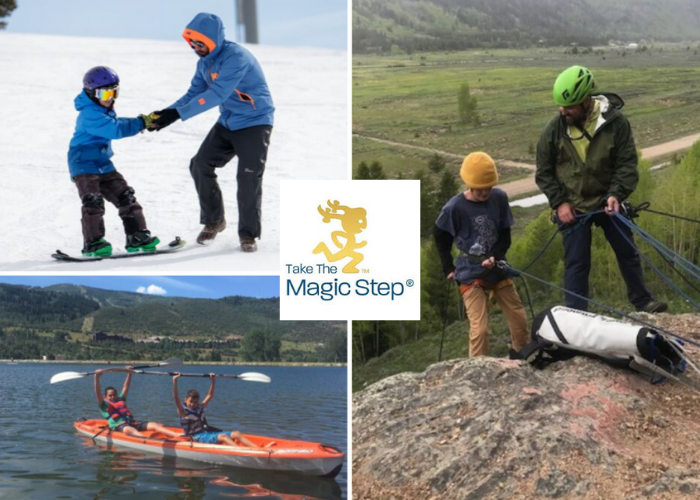 Take The Magic Step Inspires SOS Outreach Youth With $15,000 Matching Gift
As SOS Outreach wraps up its 25th year of providing life-changing opportunities for youth, we celebrate the milestone and set our sights on the next 25 years. To help honor this accomplishment, longtime partners Uta Pippig and Take The Magic Step will generously match every new or increased dollar donated up to $15,000 now through August 31st, the end of our program year. 
Uta and Take the Magic Step have been dedicated supporters of SOS for over a decade, providing opportunities for countless youth to discover their passions and carve their own paths. Take the Magic Step was founded with the vision to help people achieve both better health and a greater sense of wellbeing. With a shared vision of using outdoor activities to improve children's chances to succeed, Take the Magic Step and SOS Outreach are proud to partner to provide life-changing opportunities for over 4,000 youth each year.   
"SOS believes in many of the same principals as Take The Magic Step," explains Uta. "The organization uses playful exercise in a team setting to help children accelerate their learning and social skills; it is a leadership program to improve their chances to succeed in their lives. What could be better? Kids playing outdoors, being healthy — and learning at the same time! We share their love of playful exercise!"
Uta, a renowned athlete in her own right, shattered barriers as the first female to win three consecutive Boston Marathons and clinched titles at the New York City Marathon and three Berlin Marathons. In the process, she won the world over with her smile and the kisses she blew to the crowds on her way to the finish line. Now, Uta channels the joy, passion, and discipline she brought to world-class competition into her work with Take The Magic Step.
"Outdoor experiences are core to what we do here at SOS and the support of Take The Magic Step allows us to bring more of those experiences to more youth," shares SOS executive director Seth Ehrlich. "In part due to the support of Take The Magic Step throughout the years, we have laid the foundation to significantly scale our impact over the coming years. We are ready to serve more children in deeper ways in more communities. We are not just getting kids on the lift, we are lifting kids up." It is through SOS' unchanged commitment to help youth gear up for life, that we set our sights on the next 25 years.