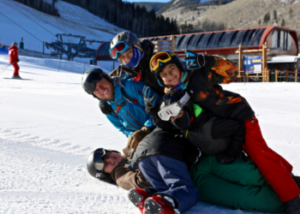 End of Season Celebrations
As the largest winter season in SOS Outreach's 24-year history comes to a close, there is a lot to celebrate as the SOS family is stronger than ever!
Nearly 4,000 youth completed SOS programs across 15 locations in 9 different states. Thanks to generous supporters like you, youth participated in Industry Days at Beaver Creek, Heavenly, Copper Mountain, and evo HQs where they were able to connect with employees and explore potential career paths in the outdoor industry. Youth also completed a variety of community service initiatives, working on projects from creek restoration, toy drives, and community food distribution to library book sorting and animal care. It is through experiences like these that our youth are learning the life skills necessary to overcome their circumstances and carve their own paths.
"LIFE IS LIKE THE MOUNTAIN.."
Elizabeth, SOS alum and Gear Coordinator in our Denver office, shares what SOS has meant for her life. She shared that by far, the biggest impact has been the relationship she formed with her mentor and the support that mentor was able to provide during all of the highs and lows in her life over the past 5 years. In her words, "Life is like the mountain, as you go down you will fall a lot, but if you hang on, the lift will bring you back up. The people who have supported me throughout my life are that lift."