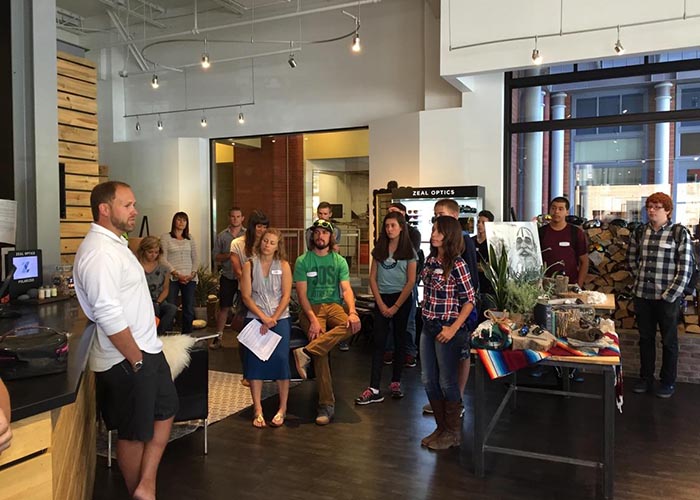 Inaugural Industry Day
On Wednesday, August 12th, SOS Outreach held its inaugural Industry Day in Boulder, Colorado. A select group of 22 high school aged, long-term SOS participants from Eagle County, Summit County and Denver toured the corporate offices of Zeal Optics, Active Interest Media, Sea to Summit, and Vail Resorts and heard from Hillary Harding of the Outdoor Industries Women's Coalition.
The main purpose of Industry Day was to expose SOS youth to the outdoor industry by giving them a chance to listen to industry representatives, see their offices, ask questions, learn about professional development and gain a better understanding of the opportunities to become involved in the world of outdoor sports.
It was a full day of presentations and meeting the staff and leaders from each company. Whether it was Mike Lewis and Ben Peters at Zeal Optics, Jenn Simon at Sea to Summit, Greg Ditrinco at AIM Media or Erin Keane at Vail Resorts, they all shared and expressed their passion for the outdoors and how that led them to their careers in the industry.
"A career in this industry does not mean you will be climbing up a step ladder to the highest position, you will instead see yourself moving around laterally across many companies as a manager here and a manager there. That is what it takes to follow your passion in the outdoor industry," said Erin Keane of Vail Resorts.
While eating burritos from Illegal Pete's, another sponsor of the day, Hillary Harding of the Outdoor Industries Women's Coalition talked about her unique story as starting out her career in the industry as outdoor guide and transitioning into the nonprofit-sector. She conveyed the importance of speaking up and asking questions in order to push you from the background into the foreground.
The day closed out with a visit to Vail Resorts corporate headquarters in Broomfield, CO where Epic Promise organized a leadership panel of employees from different departments ranging from Human Resources to Project Management. Vail Resorts' Epic Promise is SOS's biggest corporate sponsor. Every year they donate ski passes, lift tickets, lunch vouchers, ski instructions and gear to our youth in the SOS programs. For our students, it was a great opportunity to ask questions about what job opportunities Vail Resorts can offer.
Overall, it was truly inspiring to see the interaction between SOS youth and the employees of the participating companies as they bonded over a mutual passion for the outdoors, and talked about how that passion can be translated into a career. SOS corporate partners engaged with our students in a unique way by providing an opportunity to meet face to face while also showing them their offices, day to day operations and products.
An SOS participant, Josue, perfectly summed up his big takeaway from Industry Day. "No career has a set path. An individual's passion will always drive them towards careers that they will enjoy pursuing."