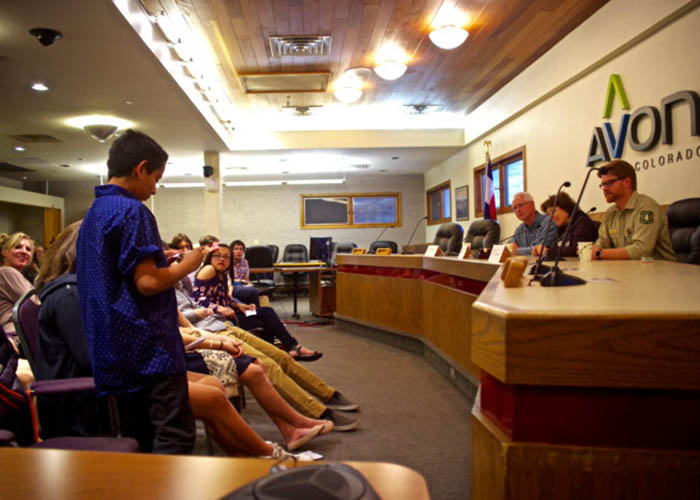 SOS Outreach Inspires the Next Generation of Community Leaders
Throughout the year, SOS University Year 4 participants explore leadership through experiential exercises aimed at defining and understanding their own natural strengths and challenges as leaders. Each spring, participants organize a capstone Leadership Panel event to celebrate their year of training. This event fosters an intimate forum in which leaders from various sectors of the community are invited to share their backgrounds, leadership philosophies, and unique trajectories to success.
This year, over 140 students participated in Leadership Panels across SOS locations, engaging over 20 local community leaders. Among invitees were Sheriffs, Forest Rangers, medical professionals, outdoor industry executives, community leaders and local government officials. Despite the diverse backgrounds, trajectories and professions of our speakers, common themes emerged as they shared their advice and answered questions from the crowd: find your passion, don't be afraid to admit you're wrong, find a mentor, never omit an opportunity to develop your skills, ask for help, don't limit yourself, listen at least as much as you speak, and remain committed to the common good. When asked what inspired Forest Ranger Aaron Mayville of the Eagle-Holy Cross District of the White River National Forest to pursue his career path, he responded that a childhood trip to Zion National Park was one of his most formative experiences while Beth Howard of the Vail Resorts executive team reminded participants that great effort ought to be put into finding what they love to do, so that they can find a way to turn it into a career. No matter their path, this year's panelists all agreed that it's never to early to start planning for your future.
By providing these types of opportunities, SOS promotes long-term individual success and helps connect youth with opportunities to place them on a trajectory for lifetime success. As our eldest SOS participants begin to think about their next steps beyond high school graduation, SOS Outreach is grateful for our local leaders who provide youth with the encouragement to follow their dreams.