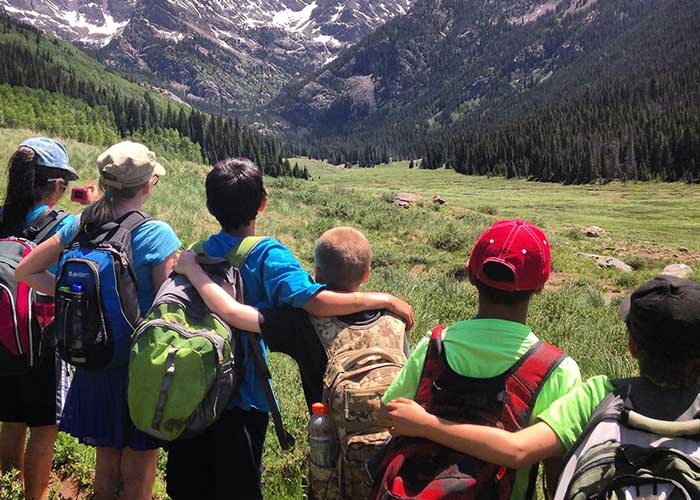 Local Partnerships Are The Key To Making Summer Programs A Success!
Since its inception in 1993, SOS Outreach has expanded upwards and outwards to provide long-term programming for underserved youth.  After finalizing a merger with Meet The Wilderness in 2009, SOS has further expanded its impacts by providing year-round programming.  SOS summer programs provide positive touchpoints for youth during their summer vacation, continuing their engagement with adult mentors, service learning projects, outdoor activities and the SOS core values.  We are excited to kick off a summer full of programs in Eagle County, Summit County, Leadville, Durango, Steamboat, Denver, Tahoe, and Seattle this year and serve over 1,000 SOS youth!
Successful daytime summer programs are made possible through incredible partnerships in our local communities.  These partnerships provide:
Service Learning Opportunities, like planting and harvesting crops for the local food bank at the Salvation Army and doing trail work at White Ranch Park with Jefferson County Parks & Rec;
Factory Tours of companies like K2, Ride Snowboards and Never Summer Industries;
Leadership and Empowerment Programs in Tahoe with Between Horses and Humans; and
Outdoor Activity Days, like learning yoga from Adventure Yoga for Kids and Lake Tahoe Yoga, stand up paddle boarding with Alpine Quest, Stand Up Paddle Colorado, South Tahoe Stand Up Paddle, and KODI Rafts, mountain biking through a partnership with Vail Resorts Epic Promise, skateboarding with Daffy Skate Company and day camp experiences with Tahoe Family Solutions, Camp Explorer and Adrift SUP shop, and backpacking, camping and rock climbing programs with the National Forest Service.
These partnerships are integral to the success of SOS Outreach as they provide our youth with a variety of new experiences that both inspire them and get them involved in diverse facets of their communities. We are lucky to partner with so many organizations that value community improvement and youth development. Seth Ehrlich, our Executive Director, touches on the importance of these partnerships to SOS's curriculum: "SOS is unique in its ability to leverage the support from many organizations and individuals to provide a multi-year leadership and development program." With all these activities, SOS participants have a lot to look forward to this summer!
In addition to these fun daytime activities, SOS youth who have been with the program for 3 or more years have the opportunity to participate in overnight experiences outside.  These trips range from base camping experiences to a 4 day backpacking trips.  With the guidance of our expert SOS Summer guides, participants learn how to be self-reliant in the wilderness, reflect on themselves as individuals, share with each other in the non-judgmental environment of the vast wilderness and build friendships that last far beyond the hiking trails.
"The impacts of the overnight camping trips are incredible," says SOS Summer guide John Weir, "There is the impact of the realization that you can participate and live comfortably in the woods – like when the kids realized we could cook good dinners while camping.  I also see a lot of the kids come in with the goal of making new friends, and the camping trips are one of those times when you can really bond with people because you're sharing tents (and giggles and inside jokes).  And you also see the kids developing a sense of personal responsibility for their actions towards other people and towards the environment.  When in the wilderness, resources are limited and we need to manage our impact.  So, a big lesson they learn is if they spill something on the ground, they need to clean it up.  Or if they leave their tent open, bugs will fly in and they won't have a comfortable night.  Being held accountable for their actions helps the kids rise to a new level of personal responsibility."
With multiple trips going out in the field across activities and locations every week between now and mid-August, SOS is on-board for a jam-packed summer filled with fun activities, good discussions, reaching goals, team bonding and circles of love!