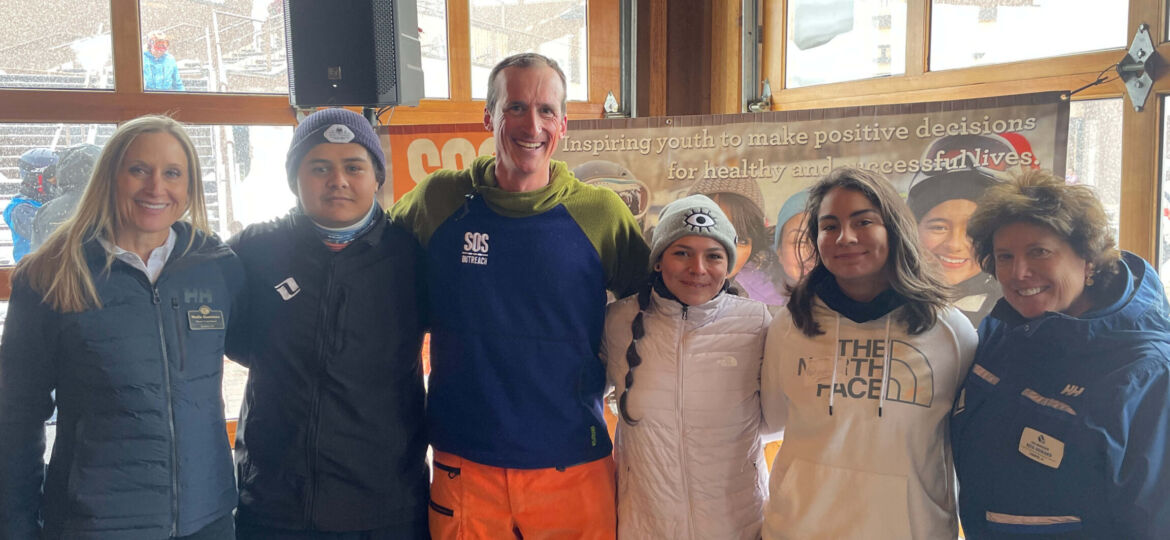 Community supporters gathered at Vail Mountain's Sarge's Shelter for a luncheon to celebrate SOS' most successful season of impact in Eagle County with over 490 youth, from Gypsum to Red Cliff, enrolled in programs.
"This is the most young people engaged locally in Eagle County programs since our inception at Vail Mountain in 1993," says SOS Outreach Executive Director, Seth Ehrlich, "and not only that, but we've increased our long-term impact on youth significantly. We now have more participants engaging in our multi-year mentoring program than ever before." Over 220 kids and teens are participating in the mentor program, and 64 of them, roughly a quarter, have been in the program for six or more years. 
The other 270 youth are in SOS' introductory program called "Learn to Ride". Upon completion of the introductory year, youth are eligible to advance into the mentor program. Learn to Ride is predominantly focused around mountain access and developing skiing/snowboarding fundamentals. Despite having the mountains essentially in their backyard, 15% of this season's Learn to Ride participants have never been on the mountain before, and a large portion of participants have only been on the mountain once or twice. 
"Increasing access is important, but for us, mountain access is only the beginning of the story," says Ehrlich, "we are focused on getting more kids to participate in more years of the program." As participants advance through the mentor program, more opportunities become available. Once in high school, teens can become Jr. Mentors and help mentor a younger group of 4th and 5th graders. They also can participate in SOS' newest program, the Career Development Pipeline, which launched in Eagle County during the summer of 2022. "As teens move up in the program, a lot of them wonder, 'OK, I have this passion for the outdoors, now how can I turn that passion into a career?', the Career Development Pipeline was designed to intentionally answer that question," says Ehrlich.  Through this program, teens and alumni are placed in six-week paid summer apprenticeships with corporate partners like Vail Resorts, evo, Smartwool, and others. During the six-week intensive, participants gain hands-on experience in the outdoor industry and build professional relationships which they can leverage later on to jumpstart their career in the industry. "We are working with the next generation of industry professionals, leaders, and thinkers," says Ehrlich, "SOS simply exists to build skills and bridge opportunities for the future generation so they can realize their full potential."
Ehrlich emphasizes that the growth in the breadth and depth of the program is in large part, thanks to the increased support from local donors and partners. "We have strong relationships with schools in the district, as well as with local youth agencies like My Future Pathways to ensure that young people who will benefit the most from our programs are being recommended," says Ehrlich, "we are also incredibly grateful for our partnership with Vail and Beaver Creek in tandem with Vail Resorts' Epic Promise. They've made our programs possible since the beginning and made our participants feel so welcome out on the mountain." 
Though SOS' winter season of programming is not over yet, Ehrlich is already looking ahead towards the future. "The strides our participants have made just this season alone is cause for celebration," says Ehrlich, "but we also recognize that, now more than ever, kids need programs like SOS Outreach and we are committed to increasing our capacity to ensure that every young person has the opportunity to thrive regardless of their life circumstances."