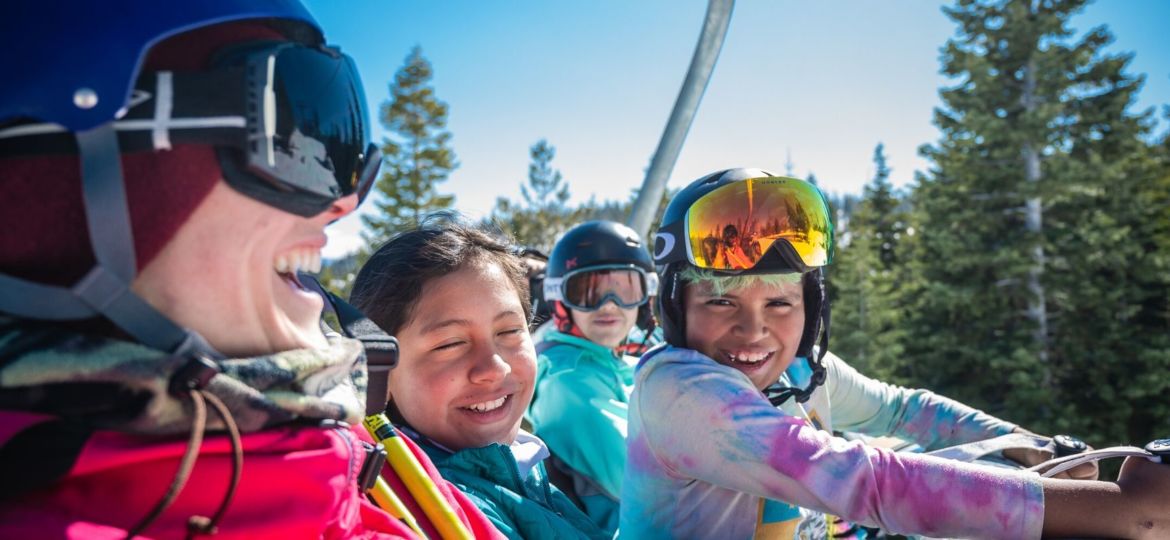 Reflections Across the Season,
Part I
April marks the close of our winter programs and although we are unable to celebrate in-person, we are proud to start a series of season reflections to highlight the voices of kids, volunteers, and partners that make up the SOS family. In this month's installment, program team members across Lake Tahoe, Utah, and Colorado share a few insights into the incredible youth and mentors that helped make this season so special. 
Each winter season, SOS celebrates the far-reaching impacts across our programs and communities through end of season celebrations and program graduations. And in the time of social-distancing, the power of the SOS community is stronger than ever. As we travel across locations, our team reflects on the connection and community that make the SOS family so unique. 
J
OURNEY TO NORTH LAKE TAHOE & MEET BRYAN, JUNIOR AT TRUCKEE HIGH WHO SHARES HIS WISDOM & FUTURE PLANS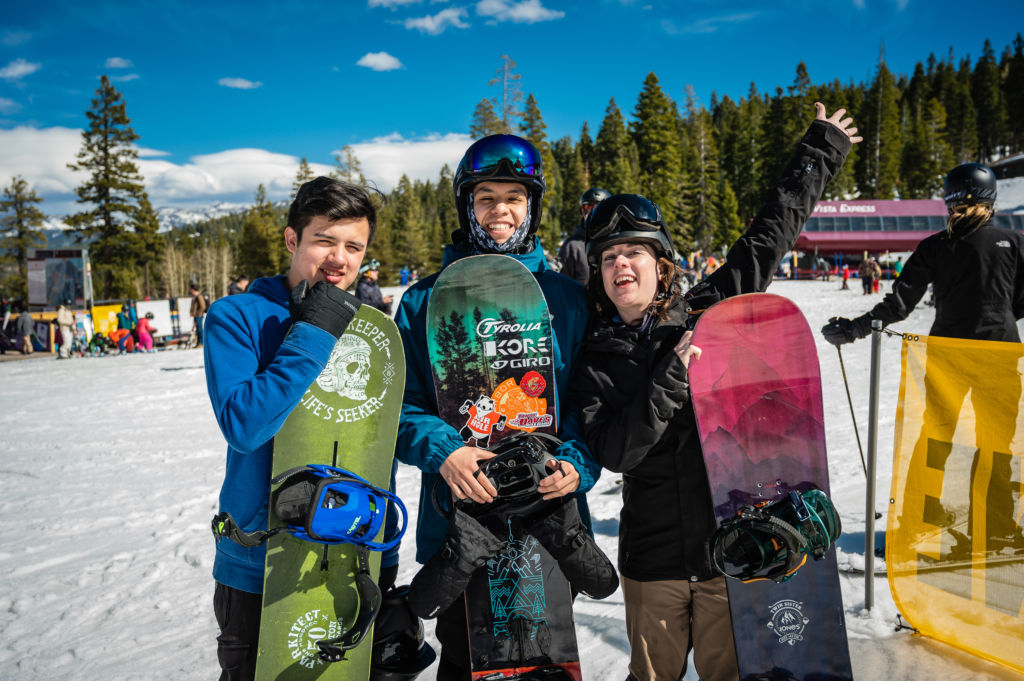 Bryan, of Truckee, California, was introduced to snowboarding in fifth grade through Learn-to-Ride at Tahoe Donner. Now a junior at Truckee High, Bryan shares his reflections on SOS and his future dreams. Bryan reminisces "Learn-to-Ride was horrible! It was hard and I wanted to quit!" His sentiment is understandable as the learning curve for snowboarding is steep and there are plenty of falls along the way. Bryan also shares what keeps him returning to the program year over year 'It is the people – SOS as a whole feels like a big family, I still remember the same kids in the program from when I first began when I returned this year." 
SOS encourages Bryan to pursue his love of the outdoors. Bryan joined the local snowboarding team, invested in a backcountry set up, and furthered his outdoor education with an AIARE 1 course. For Bryan, it is not just the outdoor engagement with SOS Outreach, it is the values the program instills. All SOS programs are guided by core values – Courage, Wisdom, Integrity, Discipline, Compassion, and Humility. When Bryan first joined, he had never heard of some of the words. Now, these values have become an integral part of his life. 
When Bryan finishes high school, he has big plans for himself. He hopes to attend a four-year university to study criminal justice and become a police officer, or study psychology in hopes to become a therapist. Bryan shares how SOS has helped prepare him for the future, "Overcoming challenges on the mountain is similar to the real world . You have to work up to things – you don't go into the park and hit the biggest jump or the hardest run. The same applies to the real world. You want a job? You have to apply for the job, then you have to get the job, then you have to practice so that you can be good at the job." 
Next year, Bryan will graduate high school and plans to return to SOS as a Peer Mentor. He will get to share his learned skills with younger participants entering the program. And if those kids want to quit because 'it's hard', Bryan will be there to encourage them with his wisdom!
J
OURNEY FROM THE NORTH SHORE TO PARK CITY, UTAH WHERE KIDS GEAR UP FOR THE SEASON WITH DISCIPLINE & COMPASSION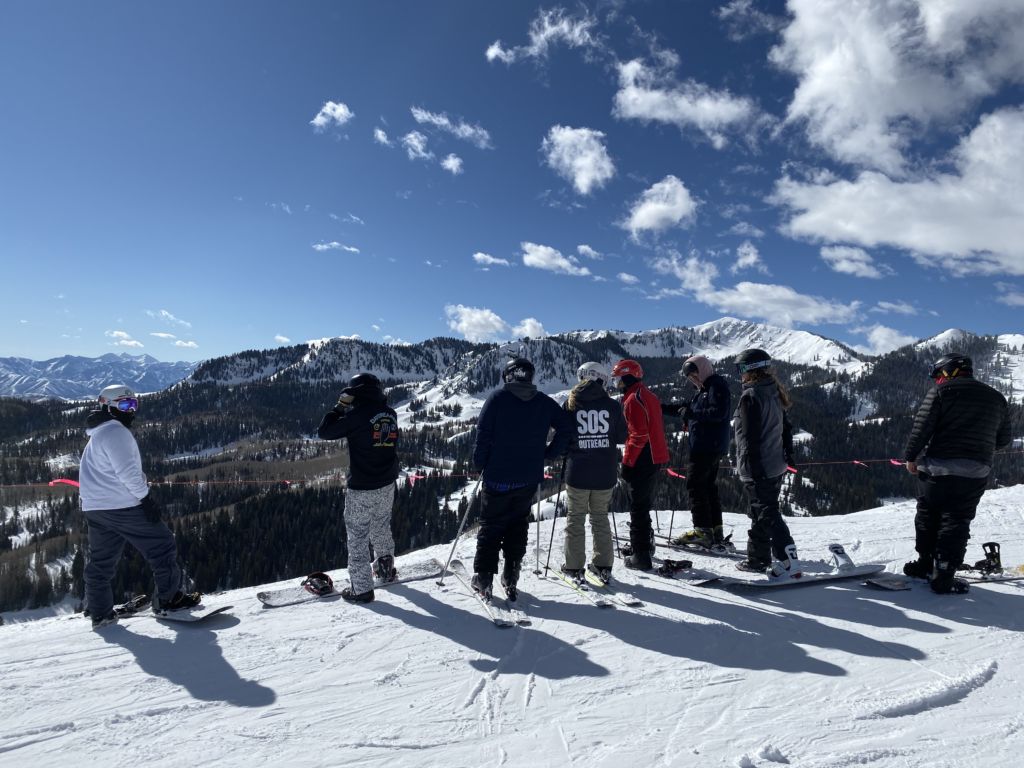 One of the results of SOS programs are more integrated communities. As we venture into the Wasatch Mountains, Utah program manager, Abbey Eddy celebrates two students, Santiago and Jordan from Treasure Mountain Junior High. These kids have just begun their journey in the mentor program and have strengthened their relationship through their shared experiences. 
"My first interaction with Santiago and Jordan was during a service project prior to the season starting in which their group helped me to organize all of our gear," Abbey recalls. "This was no small task as we had dozens of boxes full of clothing in all conditions and sizes. I was immediately struck by the discipline and compassion they exhibited to ensure everything was properly organized and ready for other students to use during the season. They spoke about their excitement to purchase their own gear and the responsibility associated with owning and caring for their own equipment." As service is a core tenet of the SOS curriculum, it also provides a meaningful space for kids to bond and relationships to flourish. In this setting, Abbey shares, "Santiago and Jordan, peers before SOS, strengthened their bond through being in the same SOS mentor group, and are now friends. They interact and support each other outside of SOS program days as they now have a community with which to ride on the weekends." 
The Solomon Fund, a supporter of SOS Park City programs, shares the belief that recreation plays a key role to "change the lunchroom dynamics" and that diversifying sport participation encourages diverse social interactions at school and in the community. Abbey shares an anecdote that highlights the impacts of this belief from a mid-season meeting with our partner, Diego Zegarra, Park City Community Foundation staff and a program facilitator for SOS: "He shared with me his surprise and pleasure of running into two familiar faces at the base of the resort, Santiago and Jordan. Diego shared that he thought they must have been there for a scheduled SOS program day but to his surprise, it was not – just a typical Saturday. Diego was thrilled to see the boys using their season passes, gear, and expanding their passion for snowboarding." Through SOS, more kids like Santiago and Jordan have the opportunity to spend more time outside in healthy activities, enjoy deeper conversations in the lunchroom, and develop strong community bonds. 
FROM UTAH, WE HEAD EAST TO THE COLORADO MOUNTAINS WHERE MENTOR PROGRAM PARTICIPANTS ARE GUIDED BY EMPATHY & SERVICE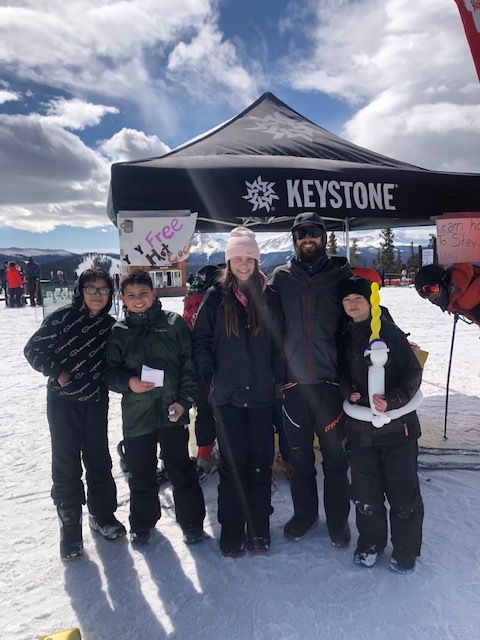 Outdoor recreation in an encouraging environment is central to developing leaders, but it doesn't stop there. Our kids look at their communities and determine what challenges need to be addressed, participate in team workshops to develop important life skills, and learn to incorporate our 6 core values in their daily lives. In year 3 of the Mentor program, SOS students focus on the life skill, empathy, and identify a community issue or concern they would like to address within their mentor group. When asked to highlight this milestone in the SOS curriculum, program manager, Kate Rath, enthusiastically shares one shining example and group. Kate celebrates, "Gus, Scarlett, Raul, Ari, and Nelson have shown great empathy this season alongside their mentor, Brent. From waiting for and encouraging each other on the hill, sharing jokes and supporting each other off the hill, to the idea formation of their final project, empathy has been the core of it all this season."
From their own experience on the mountain, they identified the risk that each skier/rider faces when one doesn't know the mountain safety code. To address this issue, they created a game for guests, employees, and fellow SOS participants to play that covered several scenarios involving safety risks. With the help of Keystone Resort's Patrol and Mountain Safety staff, they set up a tent at the Summit and invited people to play the game. If they answered correctly, they were rewarded with a prize, if they were a little off, Gus, Scarlett, Raul, Ari and Nelson would educate them on the best way to handle the situation. 
Kate concludes, "Brent's group used empathy to address an issue in their community; skier and rider safety on the mountain. Not only did they bring awareness to skiers and riders enjoying the mountain that day but they also personally learned more about the code, practiced public speaking with employees, guests, and peers, and got to work directly with patrollers from Keystone Resort – opening their eyes to possible career opportunities with a behind-the-scenes look at what mountain workers might do in a typical work day."