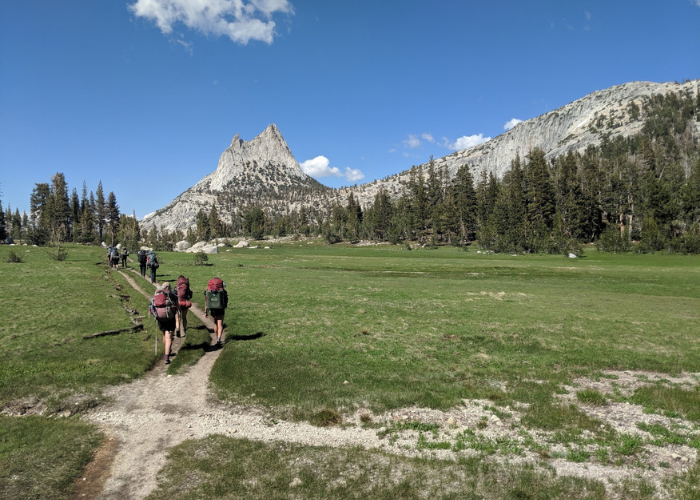 Reflections from the field. Backpacking in yosemite
By Amina Hughes, North Lake Tahoe Program Manager
"Between every two pine trees is a doorway to a new world" – John Muir
As we gear up for another school year and another SOS Winter Season, I would like to take a moment to share some highlights from the 6-Day backpacking trip the youth in Tahoe went on this summer with Lasting Adventures. Lasting Adventures is the leading guiding service based out of Yosemite and offers backpacking trips, day hikes, and youth summer camps. Founder Scott Gehram also happens to live part-time in Tahoe in the winter and is excited about continuing to partner with SOS Outreach.
My name is Amina, and I manage programs out of North Lake Tahoe and I had the opportunity to accompany SOS Outreach youth into the Yosemite backcountry – specifically, Tuolumne Meadows high country. For six days, we carried everything that we needed to be self-sufficient on our backs.
Our journey began at the Tuolumne Meadows Wilderness Center where we met our guides, Kara and Nick. After enjoying a picnic-style lunch, we set to work learning how to pack packs, making sure everyone had the correct gear, and then hoisting our bags onto our backs and heading to the Murphy Creek trailhead.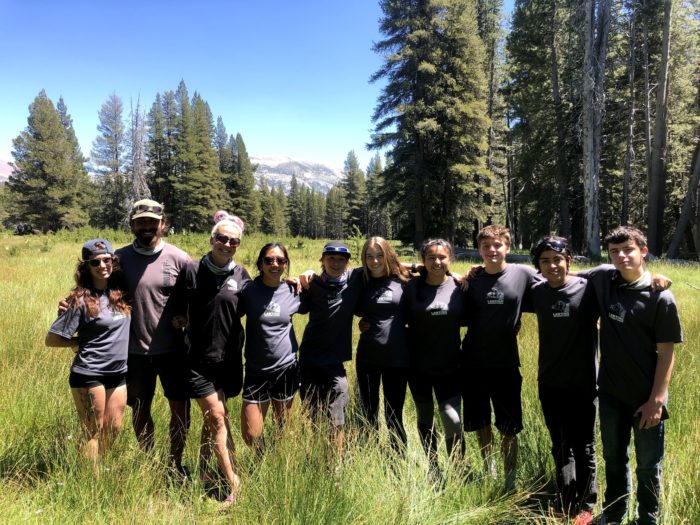 Here in the Sierras, we have been blessed with an incredible winter of snow, and down in Yosemite, they too had a heavy winter. That said, this spring and summer have seen swarms of mosquitos. While chatting and getting to know one another along our first stretch of trail, we battled these tiny pests and camped at a beautiful spot by a stream with a bluff nearby where Kara taught us about constellations and we shared star stories, based upon classic greek and roman mythology.
Over the course of the following five days, we stayed by May lake, sunrise lakes, and by Cathedral lakes, passing through alpine meadows filled with wildflowers, hiked up dusty rocky switchbacks for astounding views of Yosemite Valley and surrounding areas, and were served delicious meals courtesy of Mountain House (think pesto chicken, pasta primavera, teriyaki chicken served in circle overlooking mountains pink in alpenglow from the setting sun).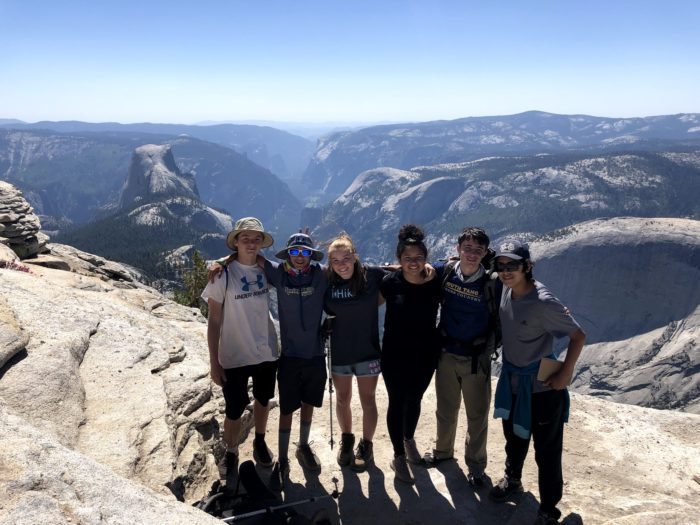 Trips like this are so much more than backpacking through beautiful areas – it is an opportunity for our youth to connect to one another and the environment. The bonds formed happen more quickly and go deeper – we are connected to an experience – a specific moment in time that no matter how hard we try to express in words, is impossible to truly explain. Trust in one another and the breakdown of social and societal barriers happen out in the backcountry. On our drive home, one of our participants told me that he didn't imagine adults could be so much fun – that the trip ending was bitter-sweet he missed his family, but he would miss the simplicity of life in the mountains with everything he needed on his back surrounded by his friends. As North Lake and South Lake youth separated there were many hugs, the exchange of phone numbers and promises to stay friends. While life continues, it is important, albeit hard, to remember the magic, the laughter and the experience that was had for one week. The bug bites and sunburns will fade, details may become fuzzy, but we have pictures and we have our stories to remind us, and lucky for our youth, this is not the end – as we are starting programs back up again come fall