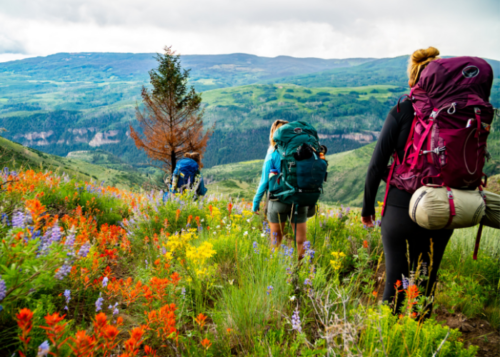 Reflections From The Field: Building Relationships In The Outdoors
By Brooke Carlsen, Eagle County Program Manager
This past summer at SOS was a wonderful way for our winter participants to be a part of new experiences and develop new relationships.  As our Eagle County Programs Manager, I was lucky enough to work on behind the scenes administrative details as well as join some of the participants on single-day and overnight trips. The most incredible part of these trips was definitely witnessing the change in relationships and energy from day 1 of meeting, to the last day at pick up. For most participants, going on an outing for one or more days with other children they do not know is uncomfortable and difficult. For the first few hours after drop off on the first day, it was typical to see tired and quiet children who were uncertain of what was to come next. By the time the day or overnight trip was over, the connections that they had made with each other were undeniable.
Even on activity days that only lasted a few hours, participants started to open up to myself and one another, talking about similarities, interests and building confidence in meeting new people and sharing fun experiences. The connections were much deeper for those participants who were able to go on overnight trips together.  I will never forget the day I joined the Peer Mentors on their last two days of their backpacking trip. When they left on Monday, there were kids from Denver, Summit, and Eagle County-who had never met each other before and were quiet and reserved. By Thursday when I joined them, I was greeted by each of them with smiles, giggles, and British accents. They had made a pact together on the second day to only speak in British accents with each other and see how long it lasted….by the time I arrived it had been going on for 48+hours. It was as if these 8 children had known each other for years. They treated each other like family, holding each other accountable for daily jobs, encouraging each other, and enjoying every moment they shared. No one was left out, no one felt unsupported-it was truly a circle of friends. At night, when each of the children shared their love for one another, the outdoors, and SOS programs, I was almost brought to tears by their words. They talked about how SOS had provided them with a safe, positive space to grow, make friends, and experience the outdoors.
This is one of the most powerful and influential pieces of our programs, providing our participants with the opportunity to not only have new experiences outdoors but to make connections and build relationships with other kids from all around Colorado. These kids find comfort and confidence in these relationships with others who come from such different backgrounds and cultures than themselves and it is a beautiful thing to witness.