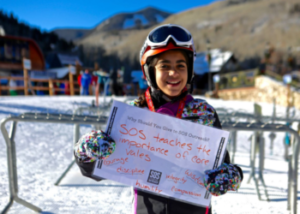 SOS Kicks Off its 25th Year!
As we enter our 25th year of changing the lives of youth, we take this moment to look back, celebrate, and thank you for everything you've done to support our mission. It's incredible what we've accomplished together. SOS started as a dream on Vail Mountain in 1993. Since that time, we've expanded our programs, partners, and locations. Because of our compassionate and generous supporters, SOS has provided over 60,000 youth the opportunity to experience a total of 1,738,008 hours outside sharing positive experiences with 8,400+ positive adult mentors and 13,000 volunteers.
Today, we provide opportunities for nearly 4,500 youth to thrive each year through access to mentors, character and leadership development, and outdoor adventures across our 15 locations and 9 states. You, the SOS family, give us the resources to inspire courage, discipline, integrity, wisdom, humility, and compassion. And the best part? It's a ripple effect. As our participants progress through the 10-year curriculum, our students become mentors and leaders themselves.
Moving forward, we just adopted a strategic plan that will increase our focus on providing life-changing mentoring programs. We will build upon our vision and direction to deliver the highest quality, consistent programs to promote opportunities for youth to thrive for another 25 years and beyond. Thank you for making this possible.