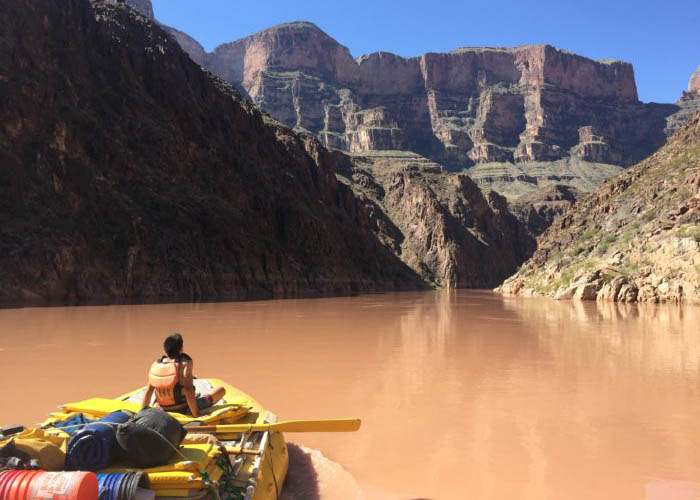 SOS Taps Into the Transformative Power of the River with O.A.R.S.
It's not often that the opportunity to unplug from the hustle and bustle of life and connect with nature presents itself. Last month, SOS Outreach, a leader in outdoor-based youth development, joined forces with legendary whitewater rafting and adventure travel experts, O.A.R.S., to offer its participants an opportunity to do just that. Across one day and week-long excursions on the American and Colorado Rivers, Colorado and Lake Tahoe-based SOS participants, all well accustomed to the challenges of learning new outdoor adventure sports through their tenure with SOS Outreach, conquered new obstacles and were left forever changed.
After a full year of anticipation, a group of SOS high school students from across Colorado tackled a 55 mile stretch of the Colorado River through Grand Canyon. The contrast between the scenery, the history, the rush of the whitewater contrasted against the relaxation of floating, and the isolation of the canyon, created a unique community that fostered teamwork and inspired deep introspection. Scott Partan, SOS program director, elaborates, "These kids were totally pushed out of their comfort zones. During the trip, it was reinforced that the combination of learning a new outdoor activity in one of the most amazing geographic regions in the world alongside incredibly experienced guides who sagely relayed the lessons of the river, gave our youth an experience that they will remember for the rest of their lives." Reflecting on his own experience, 14-year old Denver SOS participant Brenden, elaborates, "The river's especially given me hope for life and hope for my dreams. No matter what, the river always keeps moving. If there's an obstacle in its way, it wears at it until it overcomes it. That's extreme determination and that is something that I'm going to keep working on in myself. The river's changed me into who I am now, from who I was back then."
In California, Lake Tahoe-based SOS participants enjoyed a day whitewater rafting on the American River and similar sentiments were shared. Seventh-grader, Kassandra, exclaimed, "Man did I use courage today, like I have never used it before!"  Regional Director, Joan Dieter expands, "This time on the river required youth to put the leadership skills and core values taught through SOS [curriculum], like courage, discipline, integrity, wisdom, compassion, and humility to the test. These skills and values have become habitual for our participants, and watching the transformation gave me immense pride in our participants and our programs." SOS Outreach is honored by the shared commitment and partnership of O.A.R.S. Foundation, Four Corners School of Outdoor Education, and the National Park Foundation for making experiences like these possible.