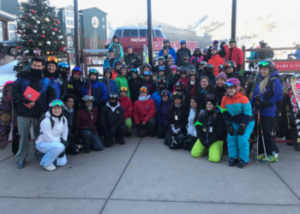 SOS Youth Shine on Mountain & In Classroom
This month, we celebrate SOS University participant Jorge, a ninth-grade student in Park City, who was selected as Utah Student of the Year! Jorge, who was recognized among hundreds of nominations statewide, "was selected for his leadership inside and outside the classroom, for making measurable, meaningful improvements in the lives of others, for exhibiting a love of learning, for encouraging learning in his peers and classmates, and for exemplifying a culture of respect and learning." Read more about Jorge's achievement here.
It's personal successes like these that highlight the impact of SOS programs on participants' lives both on and off the slopes. Through the tremendous support of our partners and dedicated individuals like you, we have expanded opportunities not only for Utah youth, but also for inner-city children in Detroit, Chicago, and Minneapolis through our program expansions over the past three seasons. Together, we are excited to help even more youth gear up for life and reach their full potential in the coming years.