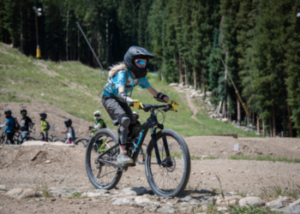 Staff Reflections: Learn to Mountain Bike
SOS Staff Contributor, Joan Dieter
Learn to Mountain Bike (LTMB) at Keystone was an amazing experience for both me and the youth that were involved. During the four days, students from both Summit and Leadville were able to work with experienced and certified instructors from the Keystone Bike Academy. The instructors did an awesome job of building skills with the students over the four days so that when they did get on single track trails up on the mountain they were set up for success.
We had a wide variety of skill levels at LTMB, which the instructors handled with ease. Students were split up into different groups that focused on level appropriate skills and drills. All groups started in the skills park each day practicing and warming up essential movements on their bikes and trying their skills out of non-intimidating features like berms, bridges, pump tracks, small jumps, and rock gardens.
By the last two days, all groups were up on the mountain putting their skills to the test on Keystone's infamous single-track downhill trails. I was lucky enough to do a ride along with one of our advanced groups Thursday morning. They successfully made it from the top of the mountain to the bottom on single track trails. It was very obvious that the kids had learned a ton in the days prior and were using their skills up on the mountain to stay in control and have a blast. A top to bottom run at Keystone is something that most adults aren't up for doing, let alone a group of kids new to the sport. During the run, one of our students turned to me and said, "This mountain bike camp was a genius idea." I couldn't help but feel proud.
It was truly amazing to watch the change that happened over the four days at LTMB. I saw students gain confidence in themselves through their new-found skills on their bike. I saw students get close to giving up but soldiered on through the support of their peers and their instructors. One girl that I was sure was going to quit on the first day made it up on the mountain the next two days and did a great job. The resiliency that these kids embody shone through in a really incredible way.
LTMB would not have been possible without the amazing support from the staff at Keystone. Larry Hutton, the Assistant Manager of the Keystone Bike Academy, supported us from day one and made sure all ducks were in a row for our students to have the best time on the mountain. Bike instructors Gabi Lago, Adam Jones, and Becky Wallace stuck with our 24 youth for four days and did an amazing job guiding them through a tough progression of skills both on and off the mountain. The staff at Keystone Sports outfitted all 24 of our kids every day with bikes, helmets, and pads and had smiles on their faces the entire time. I truly felt like we were not only welcomed there but embraced. And, of course, this would not have been possible without the amazing generosity of Epic Promise which supplied all lift tickets, bike hauls, bike rentals, and instruction necessary to get our kids on the trail. Through the LTMB program, we were able to fill another gap for the children of Summit County, and we look forward to incorporating this program into our summer offerings for years to come.