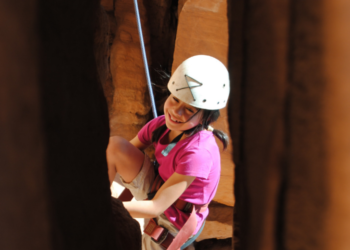 Staff Reflections: Special Times at the Colorado National Monument
Staff Contributor, Gillian Lane
"Ok, where do I do go next?" asked 9-year-old Eduardo as he clung 15 feet up on a red sandstone climbing pitch in Colorado National Monument. For a young kid who had never rock climbed before, he was abnormally calm despite being stumped on where to climb next.
As he held his position on the wall, Eduardo listened patiently as I coached him on how to ascend the pitch by sticking his hands in a large crack, leaning back and using his feet to walk up the face. He was a little unsure at first, but you could see everything click when he positioned his hands in the crack, braced his feet against the wall and began walking up with ease. Within 10 minutes he was all the way at the top with the biggest grin on his face.
Eduardo was one of 43 students from June Creek Elementary School who spent four days and three nights in the desert as part of the annual fourth-grade field trip to Colorado National Monument. I was fortunate enough to be able to participate as one of four guides from SOS Outreach who lead the trip.
As kids filed off the school bus on the first afternoon of the trip, I saw so many familiar faces who had participated in our Learn to Ride and University programs this past winter in Eagle County. One student, Alexis, came straight up to me as I was handing out sleeping bags and said, "Hey you're with SOS! I saw you in Walmart!"
For the majority of the students on the trip, this was their first experience camping and spending time away from their families. None of this was evident to us on the first day as they sprinted around the campground, exploring their home for the next 4 days.
The kids adjusted very quickly to the daily schedule of activities and learned some important Leave No Trace principles to camping like picking up every minute piece of trash, being aware of not running on cryptobiotic soil and making sure to lick everything out of your bowl before washing it.
My favorite days of the trip were spent in Lower Monument Canyon where the group got to hike and rock climb on the trail that leads up to Independence Monument. As a guide and SOS staff member, it gave me the opportunity to get know the kids better and teach them about the unique geology of the canyon. We also gave the group an opportunity to search for the elusive and rare Rock Mountain Desert Pineapple.
Being a guide is an around the clock job. The exhaustion is well worth it, though, when I get to witness each student gain confidence spending several nights away from the comforts of home, learn how to work as a team to cook meals for the entire group and try an activity as new and scary as rock climbing. I feel so privileged to have gotten the opportunity to interact with the kids and parents from our community in such a unique manner. I was pleasantly surprised to find that the fourth graders were not the only ones experiencing camping in the desert for the first time, though. Our parent chaperones, as well, had never been camping before. Upon the conclusion of the trip, one of the mothers told me that she would love to return to the park again with her whole family because it reminds her so much of where she grew up in Chihuahua, Mexico. It is moments like these that remind me just how much of a difference we are making for the community as a whole.