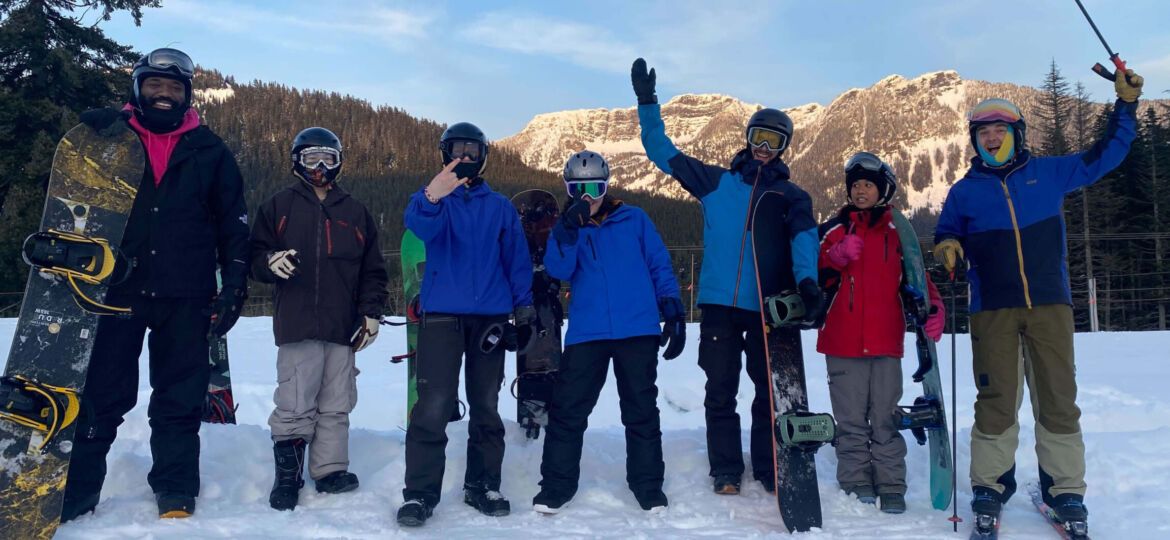 150 Seattle Youth Impacted through Learn to Ride Program
This season, 150 youth from King County and Tacoma were impacted through our Learn to Ride program which consist of five ski/ride days, rentals and lessons at the Summit at Snoqualmie and Crystal Mountain. These programs are supported by mountain employees and local volunteers who have donated time and resources to help deliver this program and make skiing/riding more accessible to all.
"As a teacher, I spend a great deal of time with students learning about their needs, wants, and dreams. Then, along came SOS with an opportunity for me to interact and teach my students in a completely different environment. What's more, I got to see how an opportunity normally not available to my students could change their lives. I have had students take up snowboarding, get their families to do more outdoor activities, or just be more comfortable trying new things; all because of SOS."

-Clay Ross, SOS Volunteer
With an emphasis on teaching our six core values (courage, discipline, integrity, wisdom, compassion and humility), youth are developing the confidence they need to succeed both on and off the slopes.
"Thanks to this amazing community, I know that every day these kids show up for a ride day, they feel like they belong," said Marlie Corona, SOS Pacific Northwest Program Manager. "It's amazing to watch the growth that takes place over the course of the season, both with their skiing/riding skills and social emotional learning. We welcome kids who want to return back to the program because we know there is always something to be gained."
This season, SOS partnered with MetroParks Tacoma to serve three different middle schools in the Tacoma area (Hunt, Hilltop Heritage, and First Creek), Troop 008 from Rainier Beach, Eastside Academy, Wa-Ya Outdoors, Nisqually Youth Services, and three community living facilities in King County. Not only did 150 youth learn how to ski/ride, but a few adult chaperones were also able to learn alongside the youth they work with. 
"Since our instructors for the Pacific Northwest programs are SOS Outreach volunteers, we have the flexibility to include chaperones in our lessons. Being vulnerable and trying something new together is a pretty powerful way to bond with the kids you work with. A chaperone from one of the community living facilities shared with me that this opportunity has made their relationship stronger with more mutual respect in their day to day lives," said Corona. 
Beyond the lessons that take place on the mountain, SOS strives to connect its participants with opportunities to engage with their communities as well as the outdoor industry. One local participant, Veronica Saint Jane, snowboarded for the first time when she was in 7th grade. Now 21 years old, she completed an internship with K2 Snow and worked on a custom ski design project with SOS, Nordica and Christy Sports. 
"SOS has helped me so much- career-wise, fun-wise, and character-wise. I'm very thankful," states Veronica Saint Jane. "This is my first product launching and I'm not even out of school. This is what my major is all about, so it's so insane to have been able to do this. For me, this project was one of the ways I felt like I could give back to the community that has supported me so much. I remember so many impactful chairlift conversations that have stuck with me to this day, especially with female mentors… I want to inspire young women just like my mentors did for me."
This season would not have been possible without the support of Share Winter, the Summit at Snoqualmie, Crystal Mountain, K2 Snow, evo, Puget Sound Energy and Lib Tech.