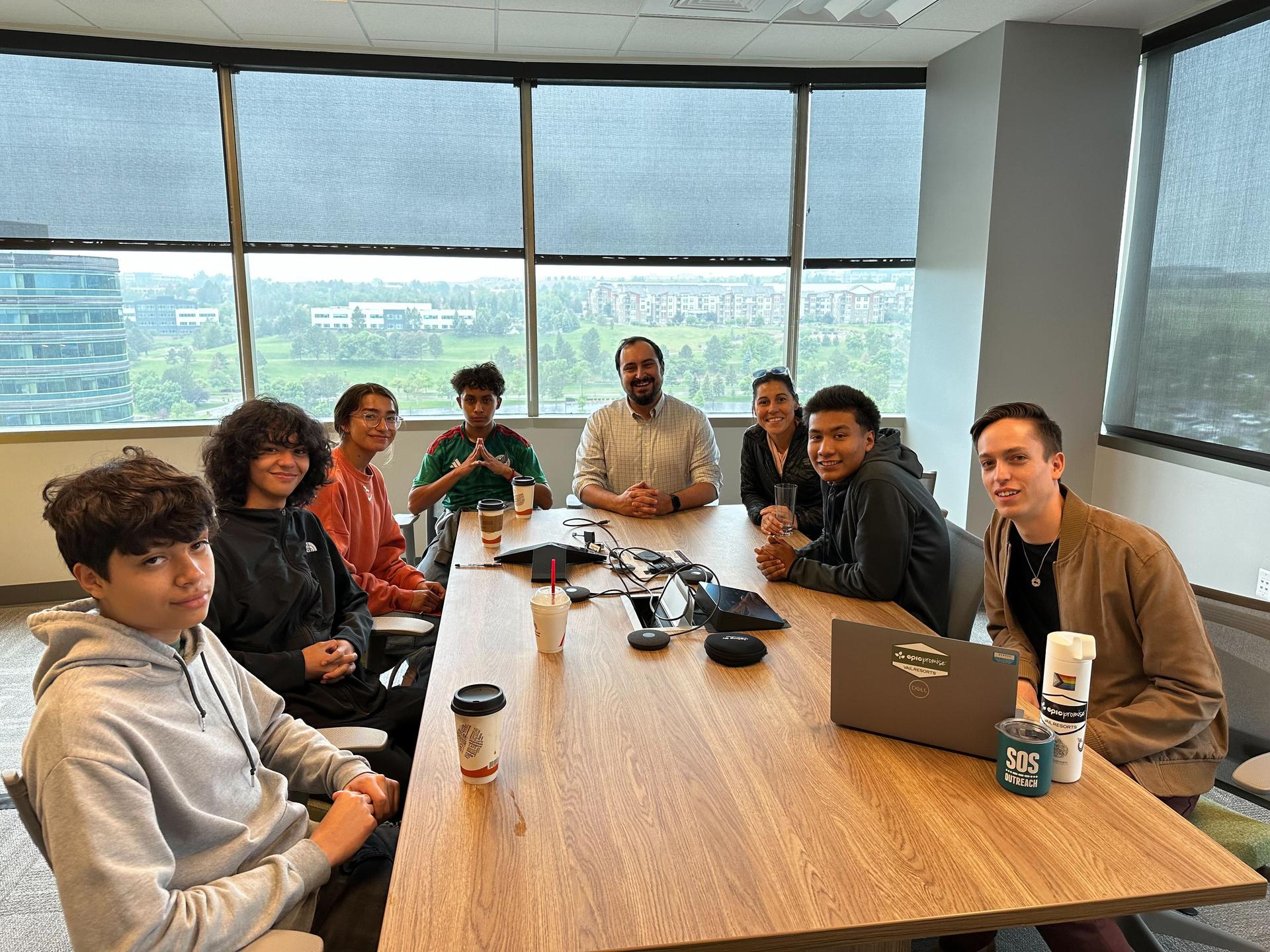 Learn. Master. Share. 
When it comes the progressive nature of SOS programs, this is our mantra.
Through every step of our program, we provide new opportunites for young people to reach within themselves and uncover their innate potential. In their first years, our youth are learning – skiing, core values, leadership, and so much more.
As teens, they begin to master; they build comfort on the mountain, cultivate their community, and explore careers in the outdoor industry.
And finally, as represented in the picture above, they share their wealth of knowledge to inspire and empower the next generation.
This photo represents over 60 years of SOS experience, as Denver career participants meet with SOS alum, Travis Tafoya. Travis, who now leads a successful career with Vail Resorts' Epic Promise, took the time to meet with these young professionals to share his journey, impart lessons learned, and give advice on finding your path.
This is the embodiment of Learn, Master, Share. And more than anything, this represents a continual evolution catalyzed by getting on a chairlift for the first time just 10 years ago.
This month, we're launching our Continuing Evolutions campaign to expand skill development for long term impact. Our multi-year progressive curriculum ensures we can keep more youth engaged for more years with opportunities for junior mentoring and career development.
Any donation, big or small, will help us reach our goal of $75,000 to support the next generation.
And in the meantime…

Spread the Love!
We are busy getting ready for next season. In preparation for next winter, we're hiring several positions.

Please help us spread the word to folks you know who might be a good fit… or maybe you are!
We are thrilled to announce that SOS Outreach has been named as a grant finalist for the Park City Women's Giving Fund award! 
If awarded, the funding will be used to support our Junior Mentor Program & Career Development Program, which is connecting Park City teens with paid hands-on job experience in the outdoor industry.
Expanding this opportunity to more young people is critical. If you are a member of the Women's Giving Fund, your vote would mean the world to us. 
Please vote or help us spread the word.
Zeal Optics, Denver-based artist Pat Milbery and SOS Outreach have teamed up to elevate your outlook to the possibilities that abound through The Open Hearts Collection. Featuring a bright new take on the Windsor and Crowley, two of Zeal Optics' most classic frames, with imaginative geometric landscapes and uplifting color palettes inspired by Mother Nature herself.
For every pair sold, Zeal will donate $5 to SOS Outreach. Open your heart and get your pair today!
Summit County, CO –  Join us on July 15 at the Breckenridge Beer Festival! 

This event is raising funds to support SOS – so go check out the great brews on tap!

Learn more here.
Boulder, CO – Join us in celebrating the release of our sunglass collaboration with Zeal and artist Pat Milbery on Thursday, July 13.

There will be prizes from Patagonia, Weston, Cotopaxi, Guayaki, The Spot Bouldering Gym and many more! Proceeds from the silent auction will benefit SOS. Drinks will be provided by Upslope Brewing.
| | |
| --- | --- |
| | SOS Outreach launches second annual career development program (Townlift) – The Park City based nonprofit SOS Outreach has been involved in providing children powerful experiences in the outdoors since 1993. For the second year in a row, SOS Outreach is launching their career development program for local teenagers…. read more. |
| | |
| --- | --- |
| | Finalists Announced for the 2023 Women's Giving Fund Grant (Park City Community Foundation) –  Park City Community Foundation is proud to announce the three finalists for its annual Women's Giving Fund grant… read more. |
| | |
| --- | --- |
| | Participant Highlight (Vail Resorts) –  "At the time, skiing looked so cool but my family couldn't afford to do it," E says, "but as soon I learned about SOS, I immediately jumped at the opportunity."…read more. |
| | |
| --- | --- |
| | Participant Highlight (Vail Resorts) – "SOS has really impacted my life in a huge way. It's not only helped me become a more confident person, it has also helped me pursue my passion for the mountains by helping me get a job here at Vail."…read more. |
| | |
| --- | --- |
| | Peak 10 Classic Supports SOS Outreach (SnowBrains) – "The Fourth of July corn wasn't only enjoyed on the cob in Breckenridge, Colorado, this year. On Tuesday hundreds of dedicated, corn-harvesting Colorado skiers made their way up to Breckenridge's Peak 10 to earn some creamy, corny turns at the annual Peak 10 Classic".…read more. |
| | |
| --- | --- |
| | Career Development Program Launches in Tahoe (SOS Blog) – "SOS Outreach has introduced its Career Development Program to participants in North and South Lake Tahoe. Through this summer program, teens ages 15 and up are placed in paid apprenticeships at Northstar California and Heavenly Mountain Resort"...read more. |