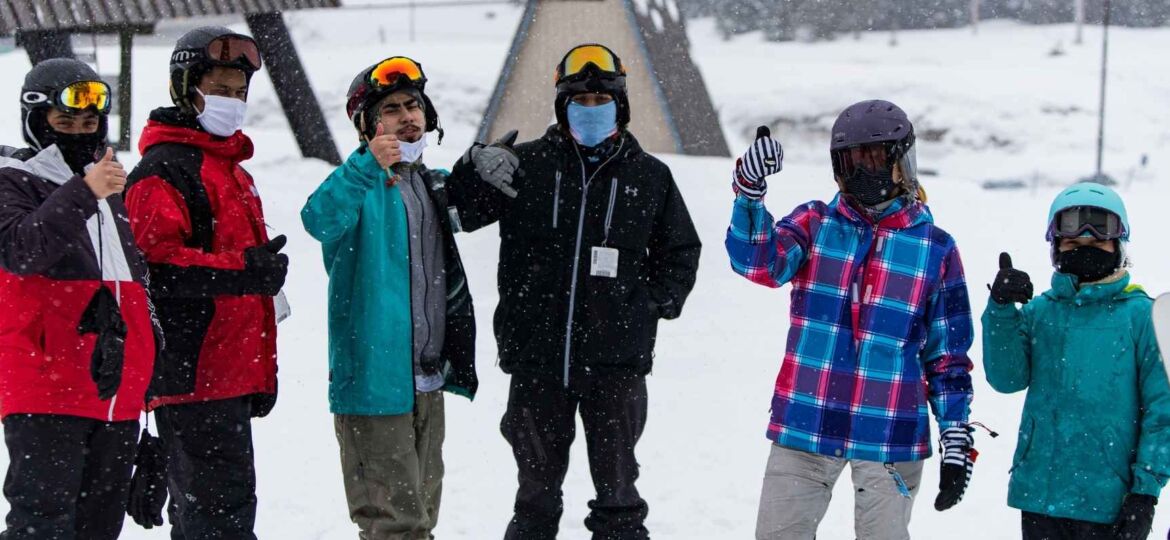 Supporting Youth Through an Unprecedented Time
Wow—the impacts from our 20/21 winter season are still reverberating from our mountain tops. The Cascades, the Sierras, the Rockies, the Midwest. We're just beginning to step back and truly take in what we accomplished together. With your support, we provided resources, encouragement, and community to more than 1,500 youth across our locations through an unprecedented year.
Last fall, we weren't sure how this winter season would look. We adjusted plans as we moved through different phases of pandemic regulations for each state, county, and community we serve. We adapted programs accordingly as we learned what would be possible for safe, in-person gatherings. We strengthened our local and national partnerships. We leaned on our SOS family. Together, we focused on our youth. Our goal was to remain steadfast in supporting each participant every step of the way.
We witnessed a fierce need for our programs. This past year our families and participants were dealt some of their toughest challenges as the economic and mental health impacts of the pandemic rippled throughout our communities. Many of our participants took on leadership roles at home to provide additional income for their family and care for their younger siblings. Our youth faced an upended normalcy, a lack of structure, increased pressures, and a very uncertain world.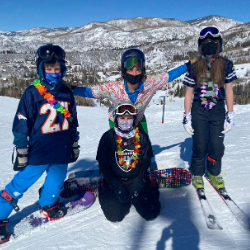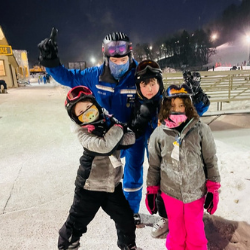 With a record-breaking number of families across locations applying for SOS scholarships at the start of the season, we were determined to open our programs to every single youth regardless of financial circumstances. We weren't sure if a blended model of in-person and virtual programming would be effective. But we dove in fully because we resolved to be there for our youth.  
Our youth dove in fully too. They leaned on the human connection, peer support, adult mentorship, and the SOS community on and off the mountain. They relished the opportunity to take a break from the stresses of the pandemic and just be themselves—to simply have fun and connect with each other, whether carving turns on a powder day or playing the ukulele for their Mentor group during a virtual workshop.  
A strong sense of belonging has always been a key part of SOS. This season reinforced just how much our youth depend on our community. These last several months have been humbling, gratifying, and have honestly changed our lives too. We were successful in furthering our mission through the unpredictability because of your support.
An Eagle County, CO mother shares the positive impact SOS has had on her daughter,
"SOS has been the one activity we have found our daughter absolutely loves, feels included, and is able to make new friends outside of the kids in her classroom. She has moved every two years for most of her life with her dad being in the military and SOS has been a tremendous help in her feeling included and making friends and skiing has been the one sport she has excelled at and felt proud of herself for improving her skills."
This sentiment is echoed across our locations. A parent in South Lake Tahoe shares, "Thank you so much for making this program happen this year. It has brought such joy to my kids and is so well organized. Thank you, thank you for this. The need for this outlet has never been greater."
We believe providing a progressive curriculum is the best approach to fostering self-confidence, self-determination, and self-sufficiency. Our Leadership panels, industry days, and workshops with Vail Resorts, Smartwool, evo, Armada, and even Olympic athletes provided unique experiences for our youth to gain professional insight, develop new skills, set personal goals, build confidence, and follow their passions.
Throughout the winter, our youth connected to our six core values in powerful ways, implementing courage, discipline, wisdom, integrity, compassion, and humility to help navigate the challenges of the pandemic. 
Youth demonstrated

courage to express their feelings. Sebastián, a participant in South Lake Tahoe shares, "I've noticed that I have become more confident in communicating with my peers. I have learned to express how I feel, or express to friends my opinion, idea, or decision. Undoubtedly, I feel that I've learned to work collaboratively efficiently and to adopt other people's ideas during my time in SOS, I'm working towards using these leadership skills in the future."
Youth tapped into

discipline

to show up when they've made a commitment to be present. Program attendance for our kids was higher than ever. Even for our virtual programming, kids wanted to connect, socialize and spend time interacting with each other.
Youth exhibited

wisdom

to share their skills and knowledge with younger participants. We had 719 youth complete our 4-year Mentor program, 91 of which came full circle to help guide the younger participants this year as Junior Mentors. Our programs are designed to create strong leaders across our communities, but that doesn't stop after youth graduate SOS.

Over 100 alumni joined our new alumni network,

Continuing the Circle

, expanding opportunities for personal and professional growth. Sadie, an alumni in Park City shares, "I've grown through SOS by learning commitment and communication. Being able to communicate with my peer group or my mentor, reaching out for help when I need it—these skills have prepared me for success."
Youth asserted

integrity

to

do the right thing even when no one is watching. Our kids shared the importance of helping someone up after a fall, not cheating on an online test at school, and picking up improperly discarded trash—all without having to hear someone else tell them to do it (or not to do it).
Youth showed

compassion

for their community, reaching out in safe and creative ways to give back—whether to deliver groceries and shovel walkways for local seniors in Summit County, CO or to create a cleaner community for everyone to enjoy by picking up hundreds of pounds of trash around Lake Tahoe.
Youth utilized

humility to reach out for support and to understand that it's always present when they need it. Many expressed that they wouldn't be where they are today, if not for their mentors. Will, a Summit County, CO mentor shares, "They each have something special to bring to the table, and something unique that they need assistance with. There is no better teacher than a mountain. We are just the middle ground."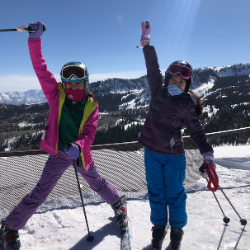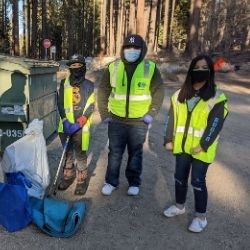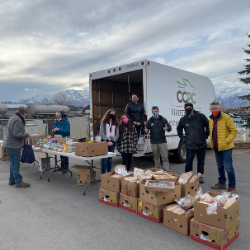 Our youth have a toolbox to use when they face challenges. We help prepare them for success, but it's within themselves that they discover their unique strengths to build resilience and thrive.
Tony, a Denver, CO participant, opens up about his SOS experience, "My journey in SOS happened in two phases. The first phase was the opportunity phase and the Learn to Ride program, where they took kids like me who'd never be able to afford it otherwise, snowboarding. Then I entered the growing phase and the mentor program. We expanded upon our snowboarding skills and we learned about the SOS core values, ideas that they wanted to teach us."
Tony adds, "We used the mountain to learn about these qualities and how to find and portray them in our own lives. Thanks to SOS, and my mentor Russell, I haven't gotten in trouble in 4 years, I've gained a life-long hobby, and whenever I go back on the mountain—I'm reminded of the lessons I learned and character traits that will be a part of me for the rest of my life. My SOS journey does not end at graduation, I can tell you that."
This season was truly the most impactful in all of our 27 years as an organization. The encouragement, the support, the camaraderie, the laughs, the high fives—but also the ability to share the struggles and come together to work through them, to empower each other and to grow. That's what this season was all about. We are proud and blessed to offer our programs to our youth when so many organizations had to unfortunately step back or shut their doors completely. You made this possible. And, we couldn't do this work without your support.