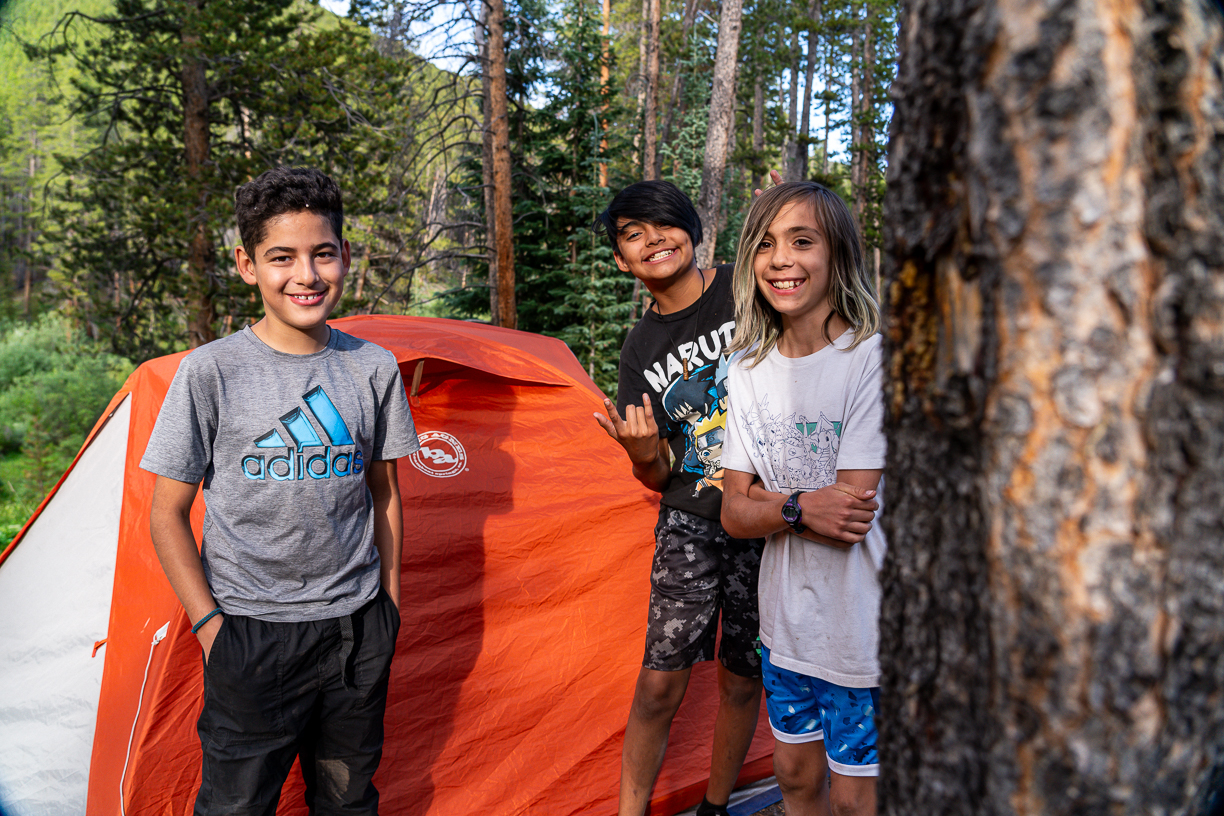 Happy August! 
From all of us at SOS, we hope you've been having a wonderful summer. This past month has been action-packed and we're so excited to share what's been happening.
First things first, we are thrilled to announce that SOS Outreach has won the Colorado Snowsports Hall of Fame 'Top of the Hill' Award in recognition of excellence of our DEI work in the outdoors. More info can be found below!
Second, now until the end of the month, we're running our Continuing Evolutions campaign to expand skill development for long term impact. If you haven't seen it yet, check out the video below to hear from SOS participant, Isa, about her evolution through SOS. Her story is powerful and we are grateful for her sharing it!
Finally, our summer programs have rockin' and rollin'! Our youth have been backpacking, rafting, & engaging in service projects. Our teens in the Career Development program are wrapping up their apprenticeships and we are incredibly proud of how much these young people have grown both personally and professionally.
Through all of this, thank you for being a part of our community and giving youth a chance to thrive.
And in the meantime…

Spread the Love!
Our Continuing Evolutions campaign, is all about helping young people just like Isa, find their path & community.
Please join us by making a donation before the months end – our friends at Tecnica are matching all recurring monthly donations and an anonymous donor is matching all one-time gifts!
Any donation, big or small, will help us reach our goal of $75,000 to support the next generation.
Come celebrate with us as we except the Colorado Snowsports Hall of Fame 'Top of the Hill' award!
The award presentation will take place during the hall of fame induction ceremony on August 27. We'd love for you to join us (plus Mikaela Shiffrin will be there)!
For tickets and more info, click here. 
Jace and Jose are selling snowboards and getting folks ready for winter over at evo Denver!
Through SOS' Career Development Program, these guys have been learning how to greet customers, handle will calls and back stock, wax skis and boards, and learn about all the products in store.
More than anything though, these two are gaining experience that they will carry with them for the rest of their lives. Everyone has to get their foot in the door somewhere, and this is a great place to start.
Zeal Optics, Denver-based artist Pat Milbery and SOS Outreach have teamed up to elevate your outlook to the possibilities that abound through The Open Hearts Collection. Featuring a bright new take on the Windsor and Crowley, two of Zeal Optics' most classic frames, with imaginative geometric landscapes and uplifting color palettes inspired by Mother Nature herself.
For every pair sold, Zeal will donate $5 to SOS Outreach. Open your heart and get your pair today!
| | |
| --- | --- |
| | Colorado Snowsports Hall of Fame announces 2023 annual awards (RealVail)- "The institution proudly announces the Annual Award recipients for the year, representing snow sports advocates and some of our state's greatest athletes."…read more. |
| | |
| --- | --- |
| | The Power of Community with Seth Ehrlich (Rebel Educator Podcast)- "Join us for this conversation about the power of community engagement, giving students access  to the talent and skills they have, and helping them use those skills to address needs in their communities"…listen here. |
| | |
| --- | --- |
| | Participant Highlight (Vail Resorts) – "SOS has really impacted my life in a huge way. It's not only helped me become a more confident person, it has also helped me pursue my passion for the mountains by helping me get a job here at Vail."…read more. |
| | |
| --- | --- |
| | Career Development Program Launches in Tahoe (SOS Blog) – "SOS Outreach has introduced its Career Development Program to participants in North and South Lake Tahoe. Through this summer program, teens ages 15 and up are placed in paid apprenticeships at Northstar California and Heavenly Mountain Resort"...read more. |