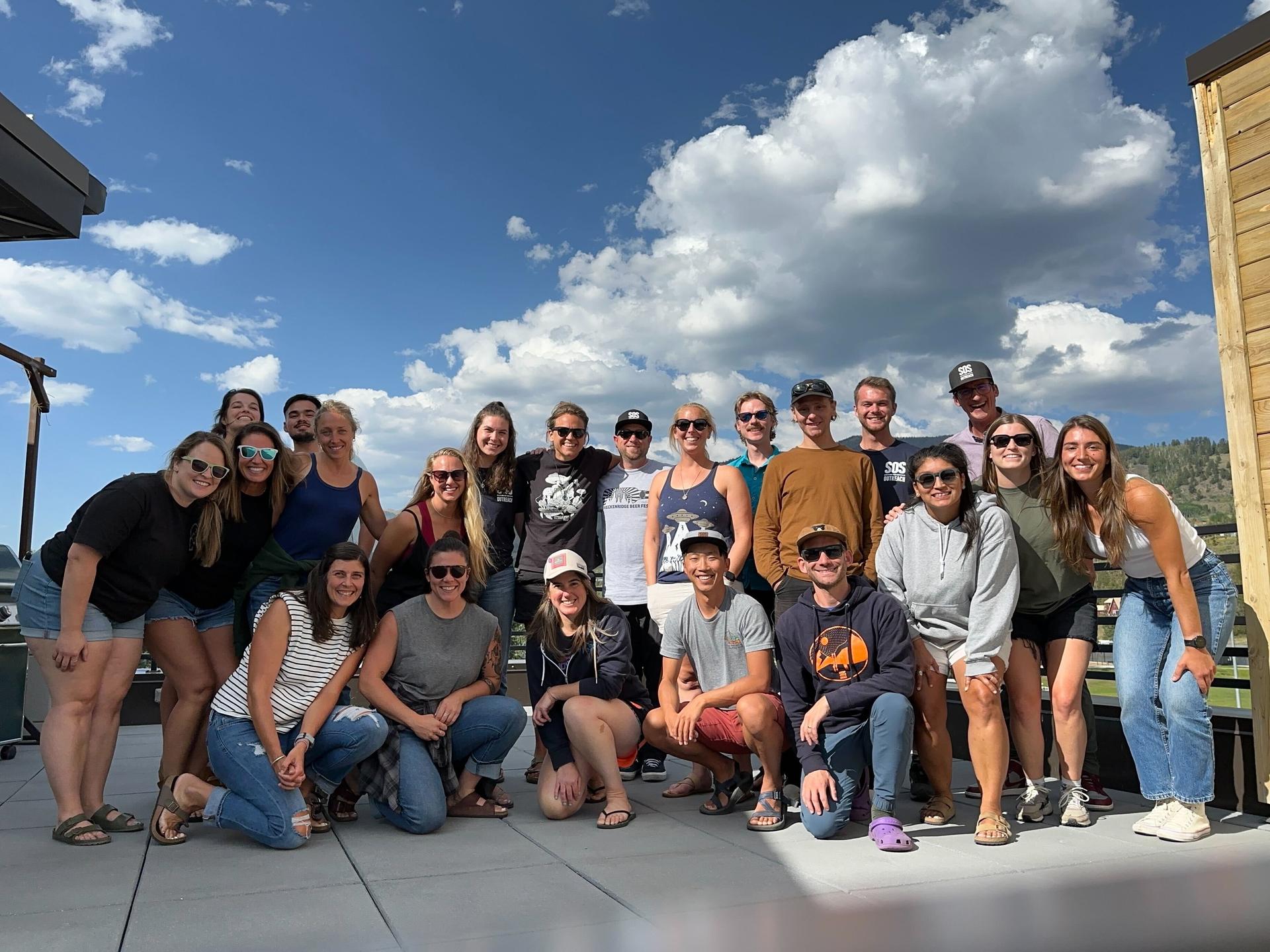 Hey SOS Fam!
Happy October. It's the season of fall colors, pumpkin patches, and in the world of SOS, program registration!
Sure, registration doesn't seem all that glamorous, but it's absolutely critical for us to get kids out on the slopes and connected with mentors.
And this month, we actually have some cool registration news to share:
We have already registered more kids in our mentoring program than we had in total in 2020/2021 (682 kids vs over 800 today)! What's more is that we still have four locations of the mentor program that haven't even started registering youth this year.
Three years ago, we set a five year goal to double the number of youth engaged in our mentoring program, and today we are on track to have more young people than ever before connected with caring and trusted adult mentors.
This is huge.
We want to give thanks to YOU, our community of supporters, and our rockstar program team (pictured above) for making this monumental impact happen.
We hope you're getting out and enjoying those fall colors, and in the meantime…
Spread the Love!
At SOS Outreach, we believe in the power of community and connection, especially in how they can transform the lives of young people. These events are not just about thrilling activities; they're about forging lasting friendships and supporting our mission to empower youth through outdoor sports and mentorship. We hope you can join us at this year's signature events:
Silverton, CO | Silverton Powder Challenge | Jan 13-16:

Prepare to be awed by the pristine beauty of Silverton once again. We're enhancing the adventure, camaraderie, and fun to create an unforgettable gathering that celebrates our shared love for the outdoors and the power to transform kids and teens' trajectories.

Just in! Pat Milbery, one of the most prolific public artists and former pro snowboarder will be with us. More exciting announcements to come, but secure your spot today! Register Here.
Park City, UT | Interconnect Tour | Feb 7:

For those who crave the thrill of exploration, our Interconnect Tour is evolving to offer even more breathtaking moments as we traverse the majestic terrain of 6 of Park City's interconnected resorts.

Register now to ensure you don't miss out on this incredible adventure: Register Here.
Eagle County, CO- Join us next Thursday, October 12 as Joel Gratz from OpenSnow presents "Chasing Powder".

The event will take place at the Westin Riverfront in Avon at 6:30 pm. Admission is free with a suggested $20 donation to benefit SOS Outreach.

See a full list of events here.
At SOS Outreach, we do so much more than one word can explain. It's more than skiing/riding, it's more than mentorship, it's mentorship elevated. We build connections on the mountain that grow deeper when we are doing community service together or in skill building workshops. We are not one word, one person, one year or one community- we are a family for a lifetime. By supporting our campaign, your donation will sponsor more youth experiencing the power of mentoring in the outdoors.
We hope you will join us on the following local give days in your community:
Mark your calendars to support one of these community giving days!

Nov. 5: Live PC Give PC

Dec. 5: Colorado Gives Day

Nov 28 – Dec. 31: Give Back Tahoe

Will you join us to help youth experience Mentorship Elevated?
When the legendary mural artist, Pat Milbery, invites you on his journey to reimagine the space in front of Denver City Hall, you grab a paintbrush and run! More than 30 members of our SOS family were lucky enough to be a part of this experience as one of their community service projects for the year. A key component of our multi-year curriculum, these projects put our core-values to practice and foster a community connection… read more in our latest blog post.
While on a work trip to the East Coast, SOS executive director, Seth Ehrlich, had the opportunity to connect with program alumni, Kevin Garcia. Kevin is now in his second year at Harvard medical school and excelling.
Success comes in many different forms and we are so proud of all SOS alumni who are using their talents and skills learned to make the world a better place.
Learn more about Kevin's journey from SOS to Harvard by watching his US Ski Team Gold Pass Takeover.
| | |
| --- | --- |
| | Ehrlich: 30 years of empowering youth by connecting them to snowsports (Vail Daily) – "Since that start, we've developed a multi-year mentoring program to empower kids and teenagers to discover their true potential."...read more. |
| | |
| --- | --- |
| | SOS Alumni Starts Adult Mountain Access Program- "Last year, Javier started an adult mountain access program through Colorado Mountain Dreamers, an organization he founded and runs.."…read more. |
| | |
| --- | --- |
| | Letter: SOS Outreach community connects youth to the mountains (Steamboat Pilot) – "It was 30 years ago in the Rocky Mountains that an idea was born, an idea that brought forward the power of sliding down a mountain on snow to create real and lasting change."…read more. |